HOME »
FAQ
»
Installation of fixed column jib cranes
Installation of fixed column jib cranes
Installation of fixed column jib cranes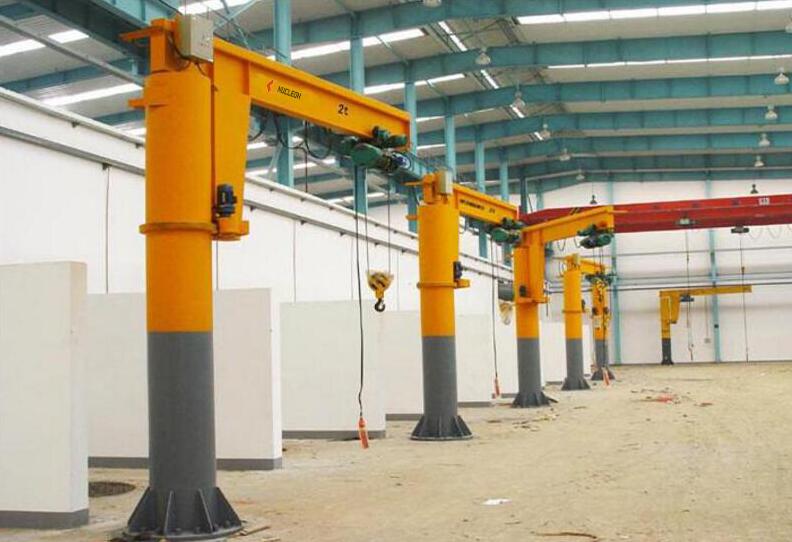 Before the installation fixed column jib cranes, should check the product according to the packing list and technical documents, there is no lack or loss in transit caused by arm beam bending and torsion deformation, shaft corrosion, etc. should be adjusted or restored separately, and every six months to the shaft, bearings and other rotating parts for cleaning, lubrication.
Column installation, the column should be kept perpendicular to the ground, the foot screw should be tightened tight, not loose phenomenon, the floor and foundation to fit well, such as with electric hoist is based on the embedded cable and grounding facilities, embedded The cable is drawn from the base center and the grounding resistance must not be greater than 4 ohms.
2 beams are installed in the following order.
1) First lift the beam horizontally, insert the spindle from the upper and lower pallet into the drum.
2) Install the gear unit on the pallet
3) Install the electric hoist and the walking car on the swing beam track. (Installation method in strict accordance with the chain electric hoist with the "use of maintenance manual" installation)
4) Install the slide rails and wire rope (or C-type rails) at the top of the beam (rope, sub-string into the slide ring, the C-type track has a self-propelled taxi and should be connected with the electrical control box on the electric hoist On the same side.
5) Install all electrical appliances on the beam for wire connection and leave the appropriate power cord. The Slip or C-type rail pulley and cable are tied with a cable tied.
The above steps are completed and can be measured by the overall hoisting.