HOME »
Case
»
Indoor Gantry Crane
Indoor Gantry Crane
The advantage of Indoor Gantry Crane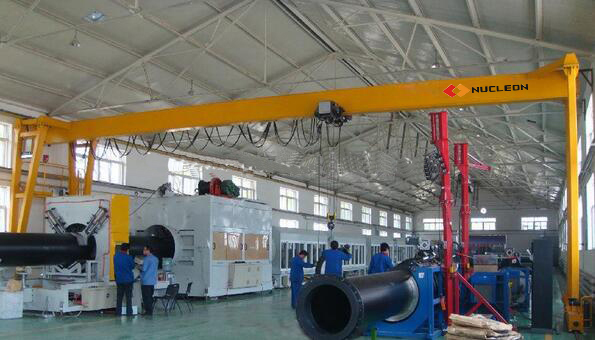 The electric Indoor Gantry Crane mainly consists of three operating mechanisms: lifting operation mechanism, cart running mechanism and trolley running mechanism. The lifting operation mechanism is mainly composed of electric hoist, wire rope, pulley, hook or sling. Electric Indoor Gantry Crane metal structure is mainly composed of two parts of the main girder and end beam, Its main girder structure for beams and steel plate combination section, made up of cover plate, web and flange beam, the casing and vertical and horizontal length of reinforced plate. Its safety and reliability directly affect the operation quality and working ability of the Indoor Gantry Crane.
The main steel structure (girder, beam) materials are made of Q235 – B, the materials used with material report and the corresponding certificate.
Steel structure fabrication, welding, inspection in accordance with national standards. Important bearing butt weld adopts the double groove welding process, and in accordance with the provisions of a visual inspection and NDT, all welder hold corresponding grade certificates.