HOME »
FAQ
»
how to purchase gantry crane
how to purchase gantry crane
how to choose gantry crane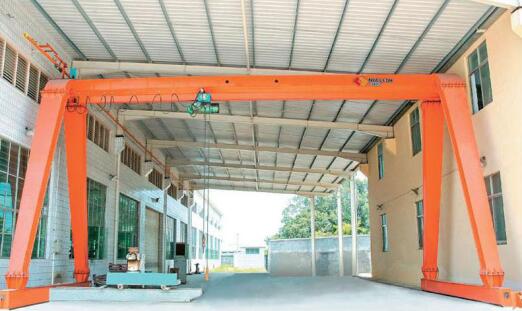 Gantry crane is the bridge supported by both sides of the legs on the ground track of the bridge crane.
When one side of the bridge is used to directly support the track of an elevated or high building, The other side of the bridge is supported by the support leg on the floor of the bridge crane is known as the semi gantry crane.
The gantry crane is composed of a door frame, a lifting trolley, a running mechanism and an electric control device. The door frame is composed of the upper bridge (including the main beam, end beam), the supporting leg and the lower beam. The main beam can be extended to one side or both sides to form a cantilever. The lifting trolley is installed on the lifting mechanism and trolley running mechanism, can be mounted crane frame, the luffing jib crane rotation and expand the scope of services.
The lifting trolley is installed on the main beam and runs along the track of the trolley. The crane runs along the ground track of the open yard, and works in the rectangular site.
Gantry crane, such a large machinery, no doubt when we need to buy, we must know how to buy products, The purchase of gantry crane we do not know whether the intention of the customer has not paid attention to the collection of information in this area, so as to be more professional to buy gantry crane products.
When enterprises in the selection of gantry crane, choose the crane which is suitable for the working level of the unit, The choice of suppliers, must be equipped with special equipment safety permit professional door crane manufacturing enterprises. After comparing choose reasonable price, good quality, excellent performance, safe and complete door crane.
After the arrival of the equipment, open the box to check whether the technical data is complete, Random accessories, tools, accessories are consistent with the list, equipment and accessories are damaged, defects, etc., and do a good job unpacking inspection records.
Gantry crane purchase is certainly not a simple job, because we are very concerned about the future application of gantry crane, Therefore, in order to us after work smoothly, Ahead of the preview of the gantry crane purchase knowledge, more conducive to the purchase of our favorite products.