HOME »
Case
»
Heavy Duty Single Beam Gantry Crane
Heavy Duty Single Beam Gantry Crane
MH type Heavy Duty Single Beam Gantry Crane has box type and truss type, the former
have good techniques and easy fabrication, the latter is light in dead weight and strong in wind resistance. For different usage, MH gantry crane also has cantilever and noncantilever gantry crane. If have cantilevers, the crane can load the goods to the crane edge through the supporting legs, which is very convenient and high efficiency.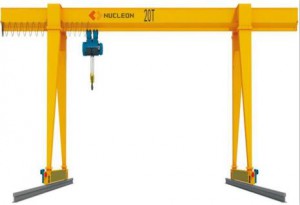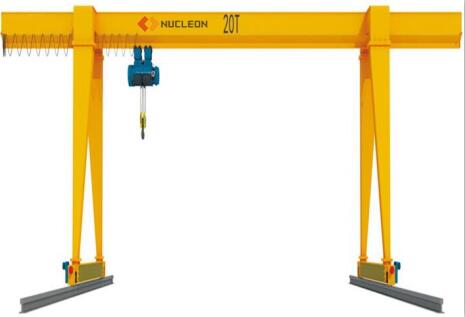 MH type Heavy Duty Single Beam Gantry Crane Specification
Lifting capacity is 5ton to 32ton;
Span is 12m to 30m;
Lifting height is 6m, 9m, 12m, etc;
Working duty is A4;
Working temperature is -20°C to + 50°C.
MH type Heavy Duty Single Beam Gantry Crane Technical parameters and structure chart
Capacity
T
3
5
10
16
Span
m
12,16,20,24,30
Operational method
Pendent Line With Press Button /Cabin/ Remote
Speed
Lifting

m/min

8 ,8/0.8
8,8/0.8
7,7/0.7
3.5
Cross travelling
20
20
20
20
Long travelling
Ground
20
20
20
20
Cabin
20, 30,45
20, 30,40
30,40
30,40
Motor
Lifting
Type /kw
ZD41-4/4.5

ZDS1-4/0.4/4.5

ZD141-4/7.5 ZDS10.8/4.5
ZD151-4/13 ZDS11.5/4.5
ZD151-4/13
Cross travelling
ZDY12-4/0.4
ZDY121-4/0.8
ZDY21-4/0.8×2
ZDY121-4/0.8×2
Electric hoist
Model
CD1/MD1
CD1/MD1
CD1/MD1
CD1
Lifting height
m
6,9,12,18,24,30
Working duty
A3
Power supply
380V 60HZ 3phase AC (According to your demand )