HOME »
Case
»
Double Girder Crane for Steel Roll Handling
Double Girder Crane for Steel Roll Handling
Double Girder Crane for Steel Roll Handling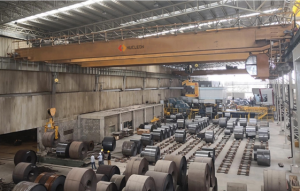 Overhead Crane with C hook feature
* Radius in corners reduces stress concentrations in critical areas without interfering with the object being lifted.
* Integral lift loop reduces headroom and requires less maintenance than conventional welded lift loops.
* Arc top better suits the contour of the ID of a Roll which prevents sharp edges from damaging the product.
* Guide handles allow the lifter to be easily maneuvered.
* Counterweight balances and hangs the lifter, both empty and loaded.
* Optional urethane bumpers can be added to provide additional protection.
We know that for steel mill working condition, it is continuous operation, which must need crane to be extremely durable, free maintenance and best quality. The main and most essential parts are the transmission mechanism which are consisting for motor, gear box and brakes.
Effective Roll Handling will address lifting efficiency and varied production needs. Lifting Rolls of sheet steel into a production line as quickly and safely as possible will ensure overall production efficiency and safety. Maneuvering Rolls within narrow clearances can be done easily with Cranes Roll handling and Roll lifting equipment.
| | |
| --- | --- |
| Lifting Capacity | 5-550 TON |
| Span Length | 35M |
| Working Class | -20~40℃ |
| Ambient Temperature | -20~40℃ |