HOME »
Case
»
Heavy Duty Overhead Cranes
Heavy Duty Overhead Cranes
50 Ton Heavy Duty Overhead Cranes
Nucleon 50 Ton Heavy Duty Overhead Cranes
30m span Heavy Duty Overhead Cranes for 6 control stations.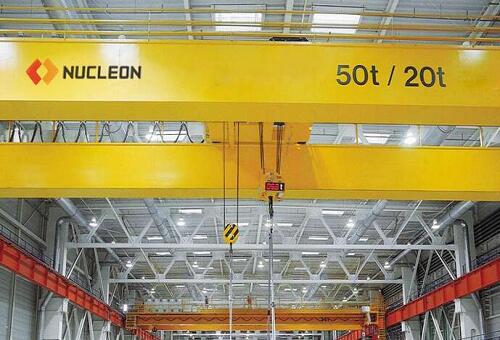 Crane type: Heavy Duty type
Load capacity: 50 Ton
Span : 30 m
Lifting height : 10 m
Travel length : 90m
Heavy Duty Overhead Cranes are particularly useful in areas where space optimization is of paramount importance.
The runway beams can be supported by the roof of the building walls, thereby eliminating a requirement for vertical columns on the floor which takes up useful workspace.
Heavy Duty Overhead Cranes are of lightweight design and hence the load impact on the building is also minimal thereby saving construction cost.
The Heavy Duty Overhead Cranes shown above are installed in an machine Maintenance facility where space is the biggest constraint.