HOME »
Case
»
Gantry Crane 10 Ton
Gantry Crane 10 Ton
Brief Introduction of Single Girder Gantry Crane 10 Ton:
 Single Girder Gantry Crane 10 Ton with hook suitable for open storage, along the railway to load and unload equipment and lifting and handling generally. Compared with the MG double girder gantry crane, and when it cross in transporting longer items, without space restrictions, has structural advantages. Additional because of the L-door 's structure characteristic, in the case of lifting height, total height is reduced, saving cost.
Lighter weight and smaller wheel pressure. in our company this product's rated capacity is 5~50T. 
Owing to its special crane design, it especially suit for the long material's handling as the long beam. So it is available for general service, such as loading, unloading, lifting and transferring work in outdoor storage or on railways.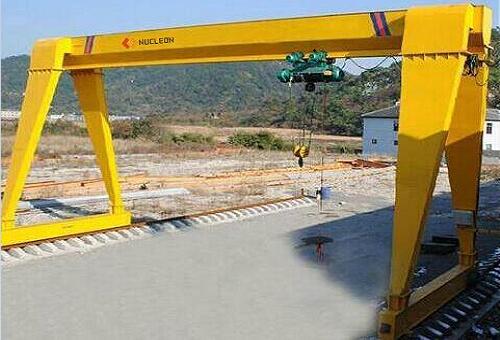 single girder Gantry Crane 10 Ton feature:
1.Weight overload protection device,
2.Top quality long time bearing polyurethane materials buffer,
3.Crane traveling limit switch,
4.Voltage lower protection function,
5.Emergency stop system, current overload protection system and so on!
Nucleon Crane Group is china famous Single girder Gantry Crane Manufacturer and double girder Gantry Crane Manufacturer.
See more:http://www.nucleoncranegroup.com
http://www.nucleonoverheadcrane.com
Email:info@nucleoncranegroup.com
If you have any questions, Please don't hesitate to contact me.