HOME »
Case
»
EOT Crane Inspection Checklist
EOT Crane Inspection Checklist
10 Ton Workshop EOT Crane Inspection Checklist
10 Ton Workshop EOT Crane Inspection Checklist uses hoist as lifting tool, including hand chain hoist, electric chain hoist and electric wire rope hoist.
Electric hoist. can move horizontally on the rail fitted under a beam. This type crane holds many characters of light structure,  easy to install and maintain, which is typically used for either manufacturing or maintenance applications, where efficiency or downtime are critical factors, for instance, plants, warehouses, or material stocks. The beam adopts the whole type without welding, which structure is more reasonable and reliable. Cabin, radio controller or hand controller can be used for operating. The cabin has seats inside. Floor adopts insulation pads and toughened glass for windows; extinguisher and fan are equipped. Other accessory equipments like air-condition, buzzer, interphone can be configured according to our client's request! 
The travelling motor can be standard motor, soft start motor or work with frequency  controller to meet the different speed requirements.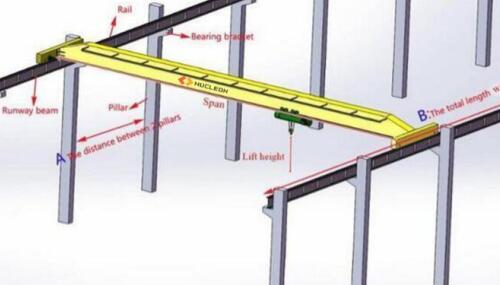 10 Ton Workshop EOT Crane Inspection Checklist is consisting of main girder, end beam, , electric hoist, long travelling mechanism, cabin or hand controller, and electrical control system.