HOME »
Case
»
EOT Crane Company In China
EOT Crane Company In China
Nucleon Crane Group Co., Ltd. is a Sino-foreign joint venture. Established in August, 2005 and situated in Henan Crane Industrial Park which has the good reputation of "Village of Crane Machinery in China", It covers an area of 320 thousand square meters with registered capital RMB 270 million Yuan and total investment RMB 300 million Yuan. There are 1700 staffs among whom medium and senior professional technicians and managerial personnel account for 400. Besides, it owns production testing equipments more than 1600 sets and the major products are bridge crane, gantry crane and light lifting hoists, including 3 categories and 18 series and more than 200 products variations. The NH model hoist, ND model hoist and HD model electric single girder crane come to be on the national top level. Our enterprise had passed the ISO9001 quality management system confirmation, ISO14001 environmental management system confirmation and career health management system. It promoted the company management level totally.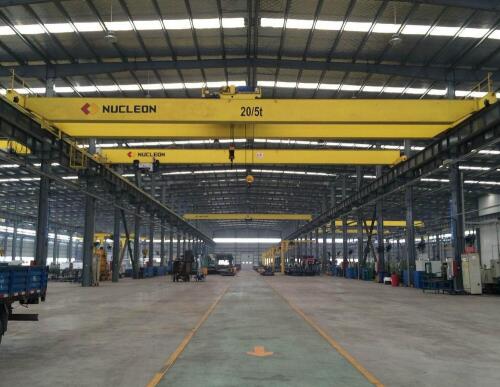 Our company is capable of producing 15000 single girder cranes, 3000 double girder cranes and 30000 electric hoists in one year. The workshop covers 170000 square meters and it has four steel structure workshops about 80000 square meters, the steel structure warehouse 8400 square meters and outdoor production areas of 84000 square meters. The constructions are modern office building, multi-function hall, apartment and other office worker life and entertainment facilities of 23600 square meters, 23000 square meters of green area. It is built to be a combination of researching, producing and selling modern enterprise. Equipped with the advanced production equipment, our company has used the national first single blast spray paint dry line in the manufacturing procedure, the single-girder U slot shaping production line, the spray paint dry line and the national largest 100 T hoist test desk and testing center, and an advanced machining equipment and welding equipment, such as CNC plane drilling machine, CNC plasma cutting machine and the multi-functional digital control lathe, automatic drilling machine, boring machine, welding robot and a number of domestic well-known brand advanced equipments for manufacturing high quality products. Our company will continue to carry forward "sincere, fusion, enterprising, win-win" spirit, adhering the quality policy of "careful manufacturing, continuous improvement, pursuing of excellence and customer satisfaction", following the way of the sincere management, strict implementation of The foreign direct investment law of the People' Republic of China, the detailed rules for implementation, according to foreign capital enterprise management mode of operation, management essence from domestic and abroad to attract first-class talents, making the first-class enterprise and the first-class management, making the first-class products, to cooperate with the friends from domestic and abroad hand in hand to cooperate and realize win-win interests.
Nucleon Crane Group is famous EOT Crane Company In China.
See more:http://www.nucleoncranegroup.com
http://www.nucleonoverheadcrane.com
Email:info@nucleoncranegroup.com
If you have any questions, Please don't hesitate to contact me.