HOME »
Case
»
Electronic Hoist
Electronic Hoist
The Routine inspection and maintenance of Electronic Hoist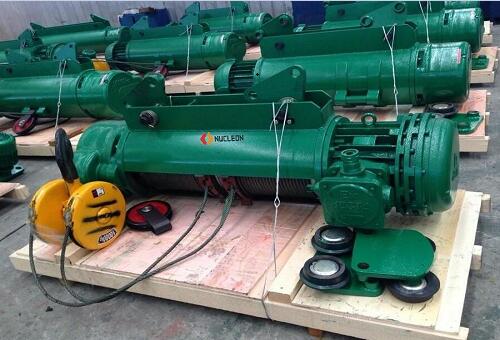 Electronic Hoists are prohibition to tilt lifting or towing heavy objects.
Workshop operators should maintain regularly to ensure safe and reliable operation of Electronic Hoist.
The limit switch is a kind of safety device, can not often collided, so the limit switch is sensitive and good.
In case of severe corrosion and overload , the number of connections shall not exceed 80 times per hour.
It is not allowed to press two buttons at the same time to make the motor positive and reverse, to prevent the power from short circuiting or to burn out the motor.
The electric equipment is not allowed to flush, and the electric equipment of the outdoor Electronic Hoist should be paid attention to the rain prevention.
Explosion-proof Electronic Hoist in use process, explosion-proof performance shall be maintained
The crane operator must be strictly implemented ten don't.
Operators should always maintain adequate lubricating oil for Electronic Hoists and pay attention to refueling according to instructions.