HOME »
Case
»
Electric Hoist With Trolley
Electric Hoist With Trolley
Electric Hoist With Trolley appear abnormal noise during running
Many failures of Electric Hoist With Trolley, such as those of control appliances, motors or reducers, are often accompanied by abnormal noise. The location of the noise and the level and tone with different causes of the difference. During maintenance, we should listen and see more, we can use or according to the characteristics of the noise, determine the location of the noise, look for and repair the fault.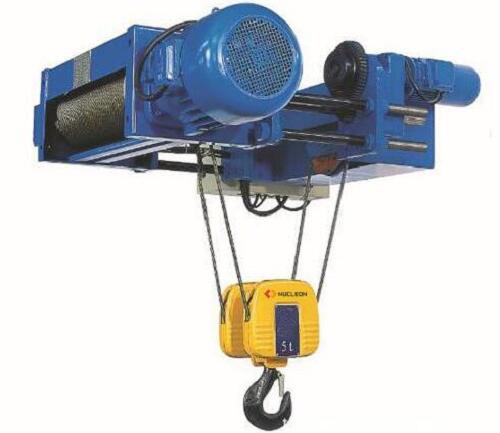 No electricity. Whether the power supply system for Electric Hoist With Trolley power transmission, Generally test with a test pen, such as no power transmission, and then work after the transmission.
Lack of phase. The main Electric Hoist With Trolley, the control circuit of electrical damage, circuit disconnection or poor contact, will also make the hoist motor phase deficiency can not work properly. Appear this kind of circumstance, need to repair the main, control circuit, maintenance and repair. In order to prevent the main, control loop to the three-phase motor power shortage and destroy the motor, Or Electric Hoist With Trolley motor suddenly get electricity running, resulting in harm, must be disconnected from the power line, only to the main control loop power. Then click the start and stop switches, check and analyze the working conditions of the control appliances and circuits, Repair or replace the faulty electrical appliance or circuit, when confirming that the main and control circuit is free from malfunction, try again.
The voltage is too low. The terminal voltage of the Electric Hoist With Trolley motor is more than 10% lower than the rated voltage. The motor starting torque is too small, so that the Electric Hoist With Trolley can not move the goods, and can not work, check, with a multimeter or voltmeter to measure the motor input voltage.
Nucleon Crane Group is a crane manufacturer with well equipped testing equipment and strong technical force. Due to wide range products, good quality, reasonable prices, considerable services and stylish designs, our company has become one of the most competitive crane manufacture for enterprises among crane industry.
Our main products are engineering equipment, including overhead crane, gantry crane, electric hoist, etc. Nucleon Crane Group has transformed to a mature manufacturer with advanced technology.
See more:http://www.nucleoncranegroup.com
http://www.nucleonoverheadcrane.com
Email:info@nucleoncranegroup.com
If you have any questions, Please don't hesitate to contact me.