HOME »
Case
»
Double Hook Bridge Crane
Double Hook Bridge Crane
100Ton/32Ton Double Hook Bridge Crane
Design: "Double Hook Bridge Crane are manufactured and designed with ISO9001 2000, ISO9001 2004 & OHSAS 18001 certificate.
Motor: The 3-phase asynchronous motor can be smooth operation in intermittent, short-term, frequent starting, braking, and load condition in accordance with ISO9001 2000, motor can be set into variable speed as customer requirement. Insulation class F, IP 54 protection for hoisting.
Reducer: Wheel gear of hardened reducer is produced by carburizing and quenching with high strength low carbon steel alloy, high precision, efficiency, stable running, low noise, small volume, high bearing capacity.
Breaks: Independent Hydraulic Breaks guarantee the crane safe and easier to control.
Control: Pendant control, cabin control, remote control.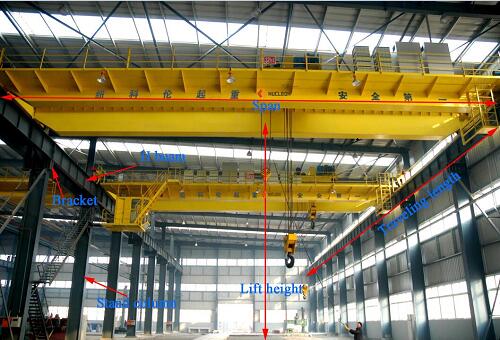 Double Hook Bridge Crane
Lifting capacity:20t/5t, 32t/5t,50t/20t, 100t/32t, 75/20t,550/100t
Lifting height: 12M-32M
Span: 10.5m -31.5M
Work duty: A7/M7
Lifting speed: 12/20m/min
Traversing speed: 30/40m/min
Crane traveling speed: 60m/min
Nucleon Crane Group is china famous Single girder Overhead Crane Manufacturer and double girder Overhead Crane Manufacturer.
See more:http://www.nucleoncranegroup.com
http://www.nucleonoverheadcrane.com
Email:info@nucleoncranegroup.com
If you have any questions, Please don't hesitate to contact me.