HOME »
Case
»
Double Beam Travelling Cranes
Double Beam Travelling Cranes
Double Beam Travelling Cranes Used for Workshop or Storage or Power Station has such features as tight dimensions, low building headroom, light dead weight and light wheel pressure. It is capable of such works as transfer, assembly, check and repair as well as load and unload at mechanic processing workshop, subsidiary workshop of metallurgical mills, warehouse, goods yard and power station. It can also be used as a general double-girder overhead crane at production workshop in light textiles or food industry. It has two kinds of classification, that is , light and medium. The working ambient temperature is generally -25 ~ 40 degrees. Yet it is forbidden to work in environment that is combustible, explosive or corrosive.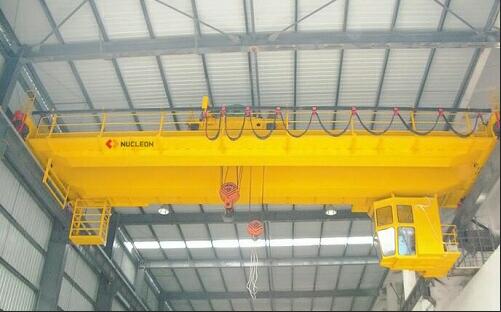 Main Features Double Beam Travelling Cranes
Heavy Duty and High Efficient;
2. Suitable for any environment ( High Temperature, Explosion Proof and so on);
3. Long Life Span: 30-50years;
4. Easy for Installation and maintenance;
5. Reasonable structure and strong rigidity;
6. The speed can be frequency inverter speed control;
7. Control method is cabin control or remote control;
8. Depending on lifting cargo, crane can be equipped with hanging beam magnet or magnet chuck or Grab or C hook;
9. Crane is equipped with all moving limit switch, loading limit and other standard safety devices, to promise crane work safe.