HOME »
Case
»
The safety requirements for Double Beam Gantry Crane
The safety requirements for Double Beam Gantry Crane
The safety requirements for Double Beam Gantry Crane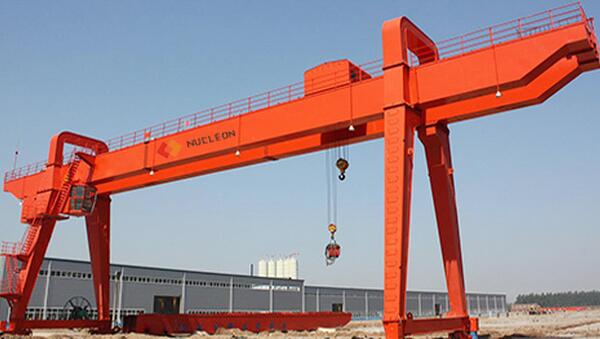 In the lifting industry, different mechanical cranes have different working characteristics. Therefore, it is suitable for different working environment, and double beam gantry crane can carry some large heavy objects, solve many problems that can't be solved by manual and other lifting equipment.
The safety requirements for Double Beam Gantry Crane:
When lifting goods with double girder gantry cranes, you cannot lift the goods by tilting.
In the process of using double beam gantry crane is not allowed people to follow the goods complete rising and landing.
It is strictly prohibited to operate double – beam gantry crane by non – operator
Double Beam Gantry Crane should be operated by a special person, the operator should be trained professionally, familiar with the operation method, structural characteristics and safety operation matters needing attention, and must pass the examination and issue a certificate of competency to operate;
Double Beam Gantry Crane in operation, banned from people's head through;
During maintenance, the power should be cut off, and the overhauling sign should be hung to prevent major accidents in the operation under the condition of failure.
Double Beam Gantry Crane is not allowed to place heavy objects in the air for long periods of time in operation.
Nucleon Crane Group is a crane manufacturer with well equipped testing equipment and strong technical force. Due to wide range products, good quality, reasonable prices, considerable services and stylish designs, our company has become one of the most competitive crane manufacture for enterprises among crane industry.
Our main products are engineering equipment, including overhead crane, gantry crane, foundry crane, electric hoist and winch, etc. Nucleon Crane Group has transformed to a mature manufacturer with advanced technology.
See more:http://www.nucleoncranegroup.com
http://www.nucleonoverheadcrane.com
Email:info@nucleoncranegroup.com
If you have any questions, Please don't hesitate to contact me.