HOME »
Case
»
bridge crane advantages
bridge crane advantages
The wide application of bridge crane and its advantages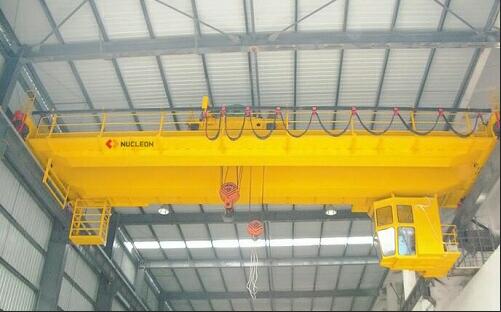 Bridge crane is a crane running on the elevated track, also known as crane. Bridge crane along both sides of laying in elevated rail longitudinal operation, lifting trolley along the bridge in laying the track on the horizontal run, constitute a rectangular scope of work, can make full use of bridge the space below the lifting materials, from the ground equipment obstacles.
Bridge crane is widely used in indoor and outdoor warehouse, factories, docks and outdoor storage yard and other places. The bridge crane can be divided into ordinary bridge crane, simple beam bridge crane and metallurgical special bridge crane three type.
General bridge crane by lifting the trolley, general bridge operation, the structure of the bridge metal composition. The crab by the hoisting mechanism, trolley running and small frame consists of three parts.
The lifting mechanism comprises a motor, brake, reducer, drum and pulley. Motor through reducer, driven rotating drum so that the wire rope around the drum or from the reel down to lift heavy objects. The car frame is bracket and install the lifting mechanism and car running parts, such as organization frame, usually for welding structure.