HOME »
News
»
Boat Lifting Gantry Crane for Iran
Boat Lifting Gantry Crane for Iran
300 tons Boat Lifting Gantry Crane acceptance ceremony was successfully held
On the morning of November 19, exports of 300 tons of Iran's Boat Lifting Gantry Crane acceptance ceremony was successfully held in new koren company production site, the Iranian side company general manager Mr. Armani and his team and new Long Hongxin koren company chairman, team members and some new koren employee representatives to participate in the ceremony.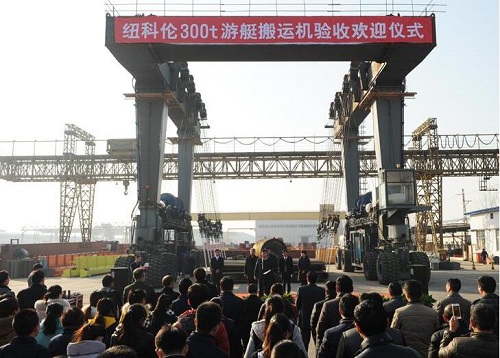 300 t Boat Lifting Gantry Crane acceptance ceremony scene
Ceremony, new koren company chairman Long Hongxin to Iran the arrival of Mr Mr Armani's warm welcome.And said, the last visit, Mr. Armani, general manager of a line of our products are very valuable Suggestions are put forward, both sides have reached consensus on the many positive and constructive.In the next few days, new koren company departments and related personnel, will go all out to give the best quality products to our clients.
At the same time, Long Hongxin said, thank you very much for Iran guests to new koren support and trust.All along, the new koren company is the professional technology, high quality products and warm service to win customers, new koren next year will continue to improve the Boat Lifting Gantry Crane series products, product specifications covered from 50 t to 600 t, to provide customers with more choices, develop a broader market.Hope in the near future, we will have more cooperation projects, and achieve more benefit win-win and common development, and also wish the company's cooperation in the friendship be everlasting!