HOME »
Case
»
3 Ton Bridge Crane
3 Ton Bridge Crane
single beam 3 Ton Bridge Crane
single beam 3 Ton Bridge Crane utilized for medium to heavy fabrication. These overhead cranes are ideally suited to low buildings, where a high hook lift height is required.
The top running configuration is best used in cases where the end user has issues with headroom. The most space efficient configuration is the double girder, top running crane system.
Lifting capacity: 0.25-20ton
Span length: 7.5-32mtrs
Lifting height: 6-30mtrs
Working duty: Class C or D
Power: AC 3Ph 380V 50Hz or according to client's requirement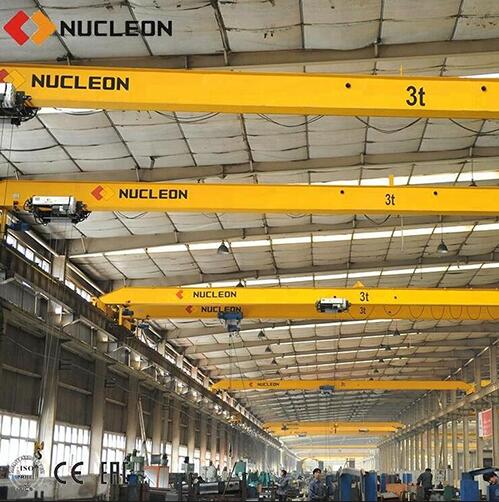 Single girder 3 Ton Bridge Crane specification:
Capacity(t)
1t–6.3t
8t–10t
12.5t–20t
Span(m)
6.5m—28.5m
Lifting height(m)
3m—30m
Control mode
Pendant control, wireless remote control, cabin control
Lifting speed(m/min)
5/0.83, 10/1.7
5/0.83   8/1.3
3.2/0.5, 6/1.1
Travelling speed(m/min)
0–20,  0–30,  0–45 (Inverter ,Stepless speed )
Service class(work grade)
a) M2, M3: used in places of mild service, such as workshop and warehouse.
b)  M4: used in places of Medium service such as assembly and depot.c ) M5 , Heavy duty service factory or long time use environment
Supply power(three phase power)
380V 50HZ 3Phase (according to user require)
Hoist type
Wire rope hoist ,Double speed
Working ambient temperature
-20 °C~ <50°C.
Note
It's not suitable for lifting blazing & melting metal or toxicant as well as explosion-proof or insulating working conditions.