HOME »
News
»
2016 Chinese company (Shanghai) international heavy equipment machinery exhibition
2016 Chinese company (Shanghai) international heavy equipment machinery exhibition
China Nucleon Crane Group have succeed attend the "2016 Chinese company (Shanghai) international heavy equipment machinery exhibition".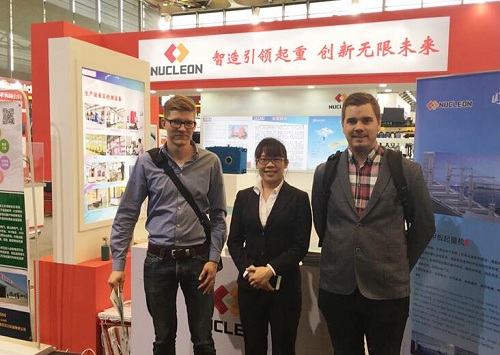 many customs from all over the word went China Nucleon Crane Group for visit and discuss.
Recently, China Nucleon Crane Group as China Heavy Machinery Industry Association unit, hoist branch vice chairman unit, was invited to participate in Shanghai"2016 China (Shanghai) international heavy machinery and equipment exhibition, and have got a good response.
During the exhibition, Nucleon show the electric hoist, single beam crane and double beam crane and other traditional leading products and wind power maintenance crane, ship deck crane and other new products and core components, the leadership of the association and the domestic and foreign merchants were came into the Nucleon exhibition, And have talk with the staff of the company to further understand the company's products, many manufacturers express a strong intention to establish cooperative relations with the nucleon company.
As we know, this exhibition Jointly organized by Chinese Heavy Machinery Industry Association and world famous – Hannover Milan Exhibition (Shanghai) Co, the ABM, CITIC Heavy Industries, nearly a thousand well-known exhibitors, involving lifting machinery, metallurgical machinery, mining machinery, logistics equipment, mining, lifting transportation loading and unloading facilities one and many other fields, is a industry's top international exhibition.