HOME »
Case
»
15 Ton Gantry Crane
15 Ton Gantry Crane
Single Girder 15 Ton Gantry Crane is a kind of track traveling midlight type crane, used together with CD,
MD, HC model  electrical hoist, according to the shape, it also divided into MH type and MHLP type gantry
crane.  Single Girder 15 Ton Gantry Crane has box type and truss type, the former have good techniques
and easy fabrication,  the latter is light in dead weight and strong in wind resistance. For different usage,
MH gantry crane also has cantilever and noncantilever gantry crane. If have cantilevers, the crane can load
the goods to the crane edge through the supporting legs, which is very convenient and high efficiency.
Single Girder 15 Ton Gantry Crane is Ltype partial hanging gantry crane, with small size and light duty,
special for putting  steel pipes, girders, or other long materials into the special place, widely used in steel
plant, concrete girder yard.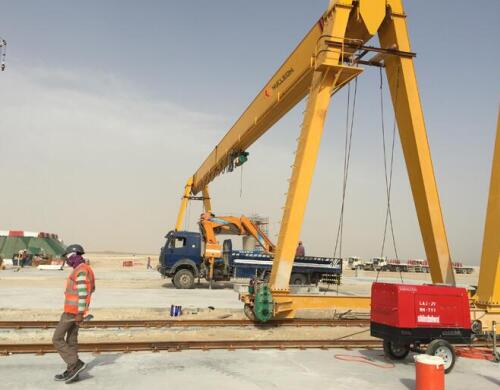 single girder 15 Ton Gantry Crane feature:
1.Weight overload protection device,
2.Top quality long time bearing polyurethane materials buffer,
3.Crane traveling limit switch,
4.Voltage lower protection function,
5.Emergency stop system, current overload protection system and so on!
15 Ton Gantry Crane specification:
1.Lifting capacity is 3.2ton to 32ton;
2.Span is 22m;
3.Lifting height is 9m;
4.Working duty is A5;
5.Working temperature is -20°C to + 50°C.
15 Ton Gantry Crane Usage(Application):
Single Girder 10 ton Gantry crane is widely used in varied industries, like material stocks area, cement plant,
granite  industry, engineering industry, construction industry, shipping yards, road sides, mines, steel plant,
concrete girder yard, etc.
We need you confirm below information when send inquiry to us:
1.Which kind of single girder gantry crane do you need?(Box type or truss type)
2.FOB or CIF price?(If CIF price, tell us your nearest sea port)
3.Quantity?(set)
4.Lifting capacity?(ton)
5.Lifting height?(m)
6.Span(m)?
Is cantilever required? Single side or both side? Length(m)?

8.Power supply?(V,HZ, Phase)

9.Working environment?(Where does the crane used & what does it used to lift for?)

10.How many hours the crane works one day?

11.Any other sepcical requirements do you need?
See more:http://www.nucleoncranegroup.com
http://www.nucleonoverheadcrane.com
Email:info@nucleoncranegroup.com
If you have any questions, Please don't hesitate to contact me.