HOME »
Case
»
Used Bridge Crane Manufacturers
Used Bridge Crane Manufacturers
Steel Factory Used Bridge Crane Manufacturers
Factory Used Double Beam Bridge Crane is widely used in smelting workshops of electrolyzing nonferrous metal, aluminum and magnesium.
This Factory Used Double Beam Bridge Cranes constituted by box-type main girder, crane traveling mechanism, trolley and electrical parts.
To prevent the current passing through the lifting mechanism to the crane and threatening the operator's life, parts of the crane are protected by insulation treatment. The crane work level is heavy duty, so the main lifting is equipped with dual braking in order to ensure safe production.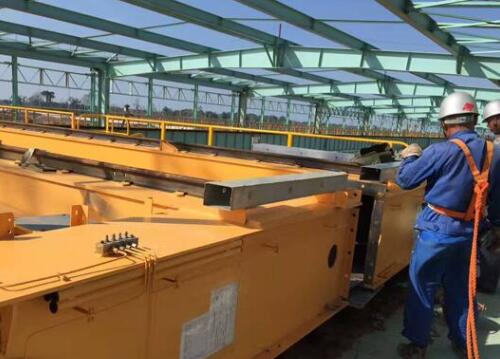 Features of Factory Used Double Beam Bridge Crane:
Three parts are insulated to ensure the security on the hook, pulley, lifting mechanism, trolley frame and the crane;
The impedance of each insulation is not less than 1 mΩ at 20℃~25℃ room temperature and humidity is less than or equal to 85%.
Nucleon Crane Group is china famous Single girder Overhead Crane Manufacturer and double girder Overhead Crane Manufacturer.
See more:http://www.nucleoncranegroup.com
http://www.nucleonoverheadcrane.com
Email:info@nucleoncranegroup.com
If you have any questions, Please don't hesitate to contact me.
In order to save cost and time for you, we need your provide below information:
1. Which kinds of overhead crane do you need?
2. FOB or CIF price?(If CIF price, tell us your destination port)
3. Quantity?(set)
4. Lifting capacity?(ton)
5. Lifting height?(m)
6. Span?(m)
7. Which kind of material does if lift?
8. Working voltage?(V, HZ, Phase)
9. Working environment?
10. How many hours the crane works one day?
11. Any other requirement do you need?