HOME »
Case
»
Top Running Bridge Crane
Top Running Bridge Crane
Top Running Bridge Crane Overview
The Top Running Bridge Crane feature  maximum rigidity for a minimum deadweight. This keeps the load on the crane runway to a minimum – and a cost-effective design can be selected for the building. This approach provides you with a cost-effective solution.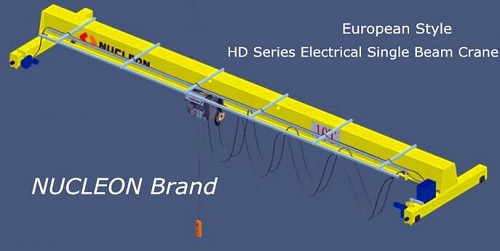 Supplied with wire rope electric hoist
Design is based on FEM and CMAA70 standards.
With optimizing design and low headroom, the crane height is greatly reduced
With optimizing design and low wheel pressure,  to achieve greater lifting capacity weight under the same strength of the workshop.
Three-In-One mechanism with frequency conversion, to reduce the equipment noise.
Overload limiter, height limiter, Stroke limiter, photoelectric limiter and other security measures are equipped according to different working conditions
Top Running Bridge Crane Personalized configuration
Optimum integration into existing and new buildings.
Control pendant suspended for separate travel on the crane girder with display for installation monitoring.
Radio control with display and proportional pushbuttons possible (optional).
Optional radio control with power and signal transmission via energy chain system.
Nucleon Crane Group is china famous Single girder Overhead Crane Manufacturer and double girder Overhead Crane Manufacturer.
See more:http://www.nucleoncranegroup.com
http://www.nucleonoverheadcrane.com
Email:info@nucleoncranegroup.com
If you have any questions, Please don't hesitate to contact me.