HOME »
News
»
The 20 Ton Electric Hoist Test
The 20 Ton Electric Hoist Test
The 20 Ton Electric Hoist Test
Electric hoist testing is always required after installation. on December 9,2016, the 20 ton electric hoist has gone through various tests. Electric hoist no-load tests, Electric hoist travel test, Crane travel test, No-load hook test, Electric hoist static load tests, Movement load tests.
After inspection and preparation, the electric hoist operation test can proceed. The running test of electric hoist can be divided into the following three steps: no-load test, static load test, and movement test.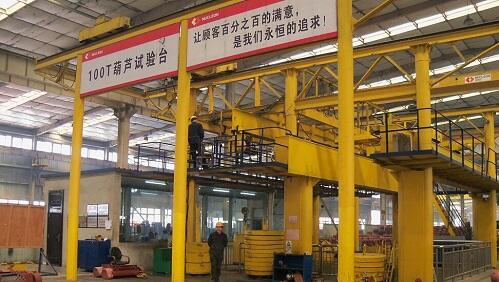 The Electic hoist testing platform
the detection method of electric hoist
When the cut-off not only check the motor, but also should first check whether the control equipment
wiring is accurate.If be ac contactor contactor poor contact, link hoist line can't get through, if there
is a jam phenomenon,when necessary change the contactor.
First check electric hoist power fuse whether burn out.If broken on one side, electric hoist electric
thought single-phase starting, the starting torque is zero, electric thought can't scroll, should be
changed enough fuse.
If the electric hoist , first removing load, such as electric performance is normal starting, explain
reducer, such as the thought structure has fault, should check at once,Eliminate malfunction.
Stator winding and short circuit, grounding or open circuit, winding grounding when in the lead on the
floor, should open the junction box to check
The second grid voltage is too low, starting torque and voltage is proportional to square,Accelerating
torque manual hoist can't overcome the load torque, short of running speed, power grid voltage should be
appropriate progress.
Electric hoist is one of our main products. We can supply various Electric hoist for crane.
For more details, please contact us via info@nucleoncranegroup.com