HOME »
Case
»
Suspension crane
Suspension crane
Application and working principle of Suspension crane and electric hoist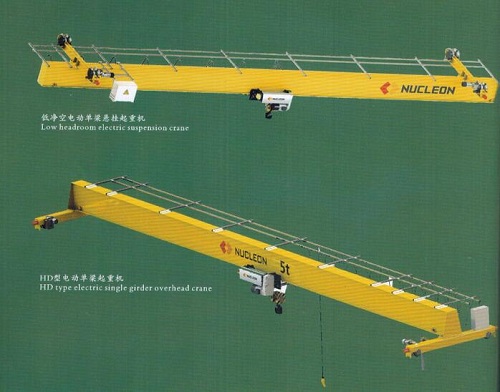 Suspension crane with CD1, MD1 and other models of the use of electric hoist, is a kind of rail operation of small and medium Suspension crane. It is applicable to the lifting weight of 3 – 10 tons. Applicable span of 6~18 meters, the working environment at -20 DEG C ~40 C.
The Suspension crane is for general purpose. It is used for loading and unloading of materials in open spaces and warehouses. This product has two types of control and indoor operation.
Suspension Suspension crane metal structure, Suspension crane operation, electric car, (electric hoist) is composed of four parts, the machine has the advantages of small windward area, light weight, the characteristics of lifting ability. It is the freight yard, warehouses, terminals and other places such as the ideal lifting equipment.
The working principle of the suspension Suspension crane: the motor shaft is connected with the reducer high speed shaft through the rubber tire type elastic coupling. When the electric motor rotation drive reducer high speed shaft rotation, the drive torque is transmitted to the final stage of the reducer through a gear, the gear is connected with the hollow shaft through a spline, the hollow shaft is connected with the reel through a spline, for this reason, the torque of the drum is rotated by the torque of the speed reducer, the wire rope winding drum and the hook or disengaged and load lifting or dropping, to complete the lifting mechanism.