HOME »
Case
»
Small Gantry Crane for raw material handling
Small Gantry Crane for raw material handling
Small Gantry Crane for raw material handling
Small Gantry Crane is the first choice for material handling outdoors, which has the runway located on the ground where the overhead crane is not practical.
Comparing with overhead crane system, the Small Gantry Crane material handling system is more cost-effective. Small Gantry Crane has a wider application, which can be used indoors and outdoors. Small Gantry Crane be used inside the existing workshop where the building structure can not support the wheel load of overhead crane. Small Gantry Crane also can be used when the loads needs to be handled outside the crane span and when the relocation of the lifting crane is required after the work at a certain site is completed.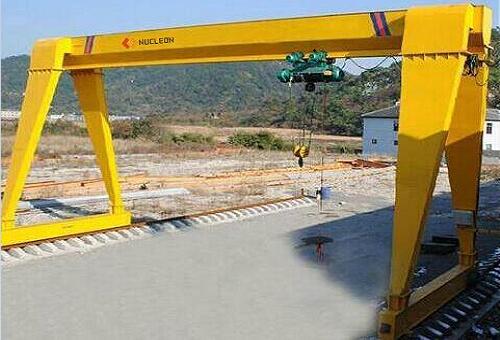 The Small Gantry Crane is called bridge crane also, It is suitable for outdoor goods, material goods, bulk cargo handling site. Small Gantry Crane is named for its appearance as part of the door shaped metal structure, with two legs mounted on the bearing main beam, can walk on the ground track.
The crane space has high utilization rate, large working area, superior adaptability, strong versatility and other advantages, it is widely used in port loading and unloading of goods yard.
Nucleon Crane Group is a crane manufacturer with well equipped testing equipment and strong technical force. Due to wide range products, good quality, reasonable prices, considerable services and stylish designs, our company has become one of the most competitive crane manufacture for enterprises among crane industry.
Our main products are engineering equipment, including overhead crane, gantry crane, foundry crane, electric hoist and winch, etc. Nucleon Crane Group has transformed to a mature manufacturer with advanced technology.
See more:http://www.nucleoncranegroup.com
http://www.nucleonoverheadcrane.com
Email:info@nucleoncranegroup.com
If you have any questions, Please don't hesitate to contact me!!