HOME »
Case
»
Single Girder Overhead Crane 10 Ton
Single Girder Overhead Crane 10 Ton
LD Model Single Girder Overhead Crane 10 Ton
Application
1.The Single Girder Overhead Crane 10 Ton will be used in sheet metal fabrication workshop.
2.The item to be lifted includes: heavy sheet metals, relocation of sheet metal machines and lifting of fabricated sheet metal items.
Single Girder Overhead Crane 10 Ton Lifting mechanism
1.All hoisting, longitudinal and traverse drives assemblies shall be equipped with brakes of the fail safe type, having spring activation and power operated release.
2.The brakes shall be heavy duty type with proven reliability.
3.The drums shall be capable of smoothly arresting and sustaining all loads.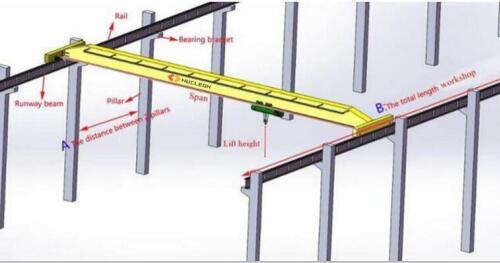 The dimension where the Single Girder Overhead Crane 10 Ton will be installed is as below
Capacity- Maximum load 10 ton
Length 18.5 meters
Width-9 meters
Height -5 meters