HOME »
Product
»
Single Girder Gantry Crane
Single Girder Gantry Crane
Single Girder Gantry Crane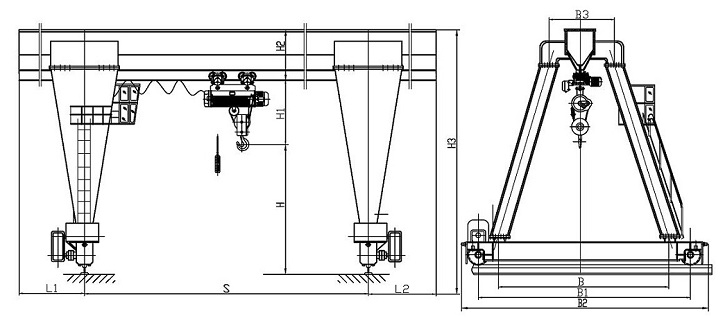 Capacity: 3 ton – 32 ton
Span(rail to rail center): 6 m – 35 m
Lifting height: 6m – 12m
The control model are pendant pushbutton control, cabin control or remote control for choice, or two control models together.
Introduction Of Single Girder Gantry Crane:
The main beam, legs and travelling beams are made by steel plates, it is very strong and has small body, it is suitable for ocean transport.
This gantry crane is commonly used gantry crane, it be used in outside yard or warehouse for loading/unloading and moving materials.
If you want to order this gantry crane, Pls tell me the details as follows:
1. The Max. lifting capacity? (Ton)
2. The span of gantry crane?( "S" the distance of rail to rail center)
3. Do you need cantilevers at two beam ends? if it is, Pls mention the length per side. L1 and L2
4.The Max. lifting height of hook?  H (or total height of crane ' H3' )
5. What type meterial will you to lift?
6. The power source standard?
Single Girder Gantry Crane is one of our main products. We can supply various Gantry Crane for our client. For more details, please contact us via info@nucleoncranegroup.com