HOME »
Case
»
The characteristics and advantages of electric Power Lift Hoist
The characteristics and advantages of electric Power Lift Hoist
The characteristics and advantages of electric Power Lift Hoist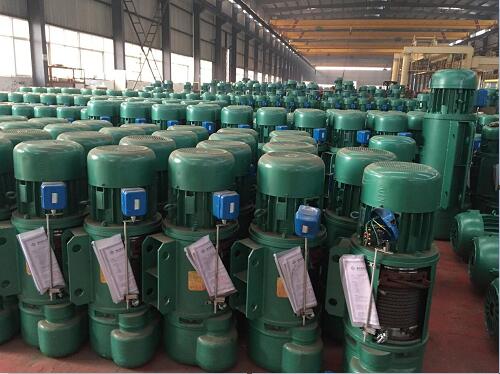 Electric Power Lift Hoists are widely used in construction sites, steel mills, warehouses and other places. It is an effective alternative to mechanical replacement of artificial.
The electric Power Lift Hoist is small in size and light in weight, and the whole machine is closed and easy to install. Without any control mechanism, automatic braking, the greater the lifting weight, the greater the braking. Easy to operate, with the press of a button, you can control the opening and closing. Electric Power Lift Hoist with compact structure and motor axis perpendicular to reel axis; electric Power Lift Hoist adopts worm gear drive device. Hook position or wire rope coil number on the drum, automatic control by the end limit switch, safe and reliable.
There are many advantages of electric Power Lift Hoist: simple operation, easy handling and labor saving. Clean environmental protection, safe and reliable. The use of safe, durable. At present, the basic characteristics of domestic electric Power Lift Hoist are light weight, small volume, compact structure, variety specifications, stable operation, simple operation and convenient use. They can be used on straight, curved, circular overhead orbits on the same plane. It can also be used in cranes that use I-beam as electric single beam, manual single beam, bridge, suspension, cantilever, gantry, etc. It is widely used in factories, warehouses, wharves, power stations, logging yards and other occasions. It is an ideal lifting equipment for lifting and transporting articles.
Nucleon Crane Group is a crane manufacturer with well equipped testing equipment and strong technical force. Due to wide range products, good quality, reasonable prices, considerable services and stylish designs, our company has become one of the most competitive crane manufacture for enterprises among crane industry.
Our main products are engineering equipment, including overhead crane, gantry crane, foundry crane, electric hoist and winch, etc. Nucleon Crane Group has transformed to a mature manufacturer with advanced technology.
See more:http://www.nucleoncranegroup.com
http://www.nucleonoverheadcrane.com
Email:info@nucleoncranegroup.com
If you have any questions, Please don't hesitate to contact me!!