HOME »
Case
»
Portable Gantry Crane
Portable Gantry Crane
Portable Gantry Crane is ideal for outdoor applications where lifting facilities are provided without the
cost of a building or any supporting steel work. Portable Gantry Crane are also suited to indoor applications
where existing building structures are not suitable to take overhead cranes, Nucleon Crane can be constructed
with a cantilever to allow handling outside the rail centers.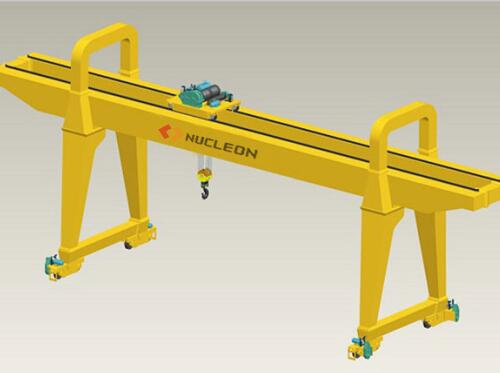 Portable Gantry Crane specification: 
1.Lift capacity:5-200/50 t
2.Lifting height:3-40m
3.Span: 3-40m
4.Work duty: M5-M7
5.crane traveling mechanisms are operated in the driver cabin or remote control
Portable Gantry Crane Mechanical:
1.Double box beam with steel legs moving through the ground beam as crane travelling system
2.The camber of main beam will be designed as Span*1-1.4/1000.
3.Steel Material: Q235 or Q345
4.Shot-blasting Sa2.5 for main girder and supporting beam
5.Epoxy zinc rich high quality painting.
6.Electrification and outfitting
7.Brand: CHINT SIEMENS Schneider
8.Conductor power supply: Cable Reel or bus bar.
9.Frequency conversion, double speed, single speed, and All  hoist and crane movements are independent an d can be run simultaneously different design duo to meet crane applications
10.Whole layout provides good protection against special  working environment. Such as gas workshop
Portable Gantry Crane Safety:
1)Overload protection;
2).Main lifting motor with thermal protection;
3).Hooks with latch;
4)Rubber buffers;
5)Protective earthing;
6)Crane switch and travel end switch;
7)Emergency switch can stop all movement when dangerous happened;
8)Sub-assemblies characteristic are tested before assembly;
9)All cranes must be preassembled and tested before leaving factory and offer the certification of tes
Nucleon Crane Group is china famous Single Girder Gantry Crane Manufacturer and Double Girder Ganrty Crane Manufacturer.
See more:http://www.nucleoncranegroup.com
http://www.nucleonoverheadcrane.com
Email:info@nucleoncranegroup.com
If you have any questions, Please don't hesitate to contact me.