HOME »
Case
»
China famous Single girder Overhead Travelling Crane Manufacturer
China famous Single girder Overhead Travelling Crane Manufacturer
Nucleon Crane Group is China Overhead Travelling Crane Manufacturer, Newly Overhead Travelling Crane for sale is ameliorated and designed on the basis of LD type single girder Overhead Travelling Crane. It uses CD/MD model electric hoist as the lifting mechanism which is running at the I-steel under the main girder. This product is widely used in plants warehouse, material stocks to lift goods.
The Overhead Travelling Crane can start steadily and runs safely and reliably.It is characterized by more rational construction and higher toughness steel as a whole.The obvious feature is an ingenious structure and easy to maintain.
It is prohibited to be used in the combustible, explosive or corrosives environment. It has three operation modes: ground handle, wireless remote control and cab. The cab has two models: open cab and closed cab. The cab can be installed on left or right side according to the practical situation.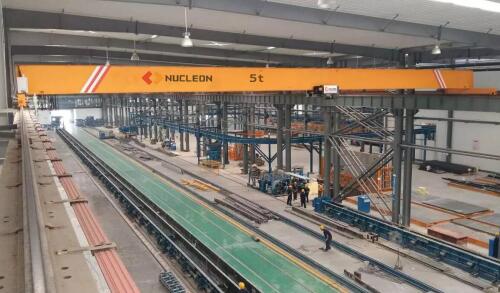 Nucleon Crane Group is china famous Single girder Overhead Travelling Crane Manufacturer and double girder Overhead Travelling Crane Manufacturer.