HOME »
Case
»
LDA Overhead Gantry Crane
LDA Overhead Gantry Crane
LDA Overhead Gantry Crane is widely used in plants warehouses, material stocks to lift goods. It is prohibited to use the equipment in the combustible, explosive or corrosives environment.
LDA Overhead Gantry Crane has two operational methods, ground or operational room which has open model and closed model and can be installed on left or right side according to the practical situation. And the direction of entering the gate has two forms, sideway and ends in order to satisfy the users' Choice users' different conditions.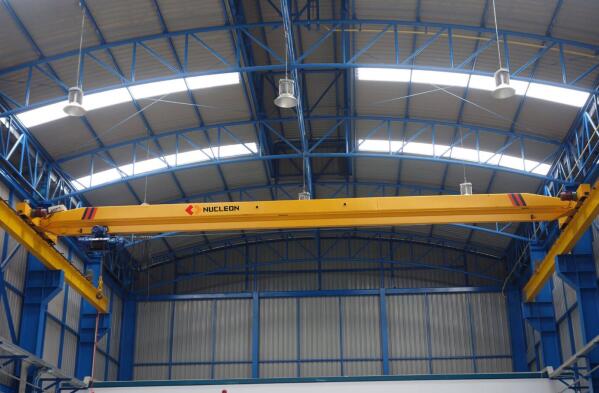 LDA type Overhead Gantry Crane
1.Capacity:0ton-20ton
2.Span:7.5-31.5m
3.Max. lifting height:28.5m
4.Working duty:A3
5.Power supply: 380v-50hz,3Phase A.C.
or as your request
Main Feature of LDA Overhead Gantry Crane
1). Compact design, optimal use of the work areas
2). Heavier loads, wider spans and higher working frequency
3). Control the load easily, position the load exactly
4). "One-Stop Shop" for your crane and hoist needs
5). Superior safety and reliability
Consist of Overhead Gantry Crane
Main beam– The main traveling structure of the crane which spans the width of the bay and travels in a direction parallel to the runway. The bridge consists of two end trucks and one or two bridge girders depending on the equipment type. The bridge also supports the trolley and hoisting mechanism for up and down lifting of load.
2.End trucks– Located on either side of the bridge, the end trucks house the wheels on which the entire crane travels. It is an assembly consisting of structural members, wheels, bearings, axles, etc., which supports the bridge girder(s) or the trolley cross member(s).
3. Bridge Girder(s)– The principal horizontal beam of the crane bridge which supports the trolley and is supported by the end trucks.
4. Runway – The rails, beams, brackets and framework on which the crane operates.
5. Runway Rail– The rail supported by the runway beams on which the crane travels.
6. Hoist– The hoist mechanism is a unit consisting of a motor drive, coupling, brakes, gearing, drum, ropes, and load block designed to raise, hold and lower the maximum rated load. Hoist mechanism is mounted to the trolley.
7. Trolley –The unit carrying the hoisting mechanism which travels on the bridge rails in a direction at right angles to the crane runway. Trolley frame is the basic structure of the trolley on which are mounted the hoisting and traversing mechanisms.
8. Bumper (Buffer)– An energy absorbing device for reducing impact when a moving crane or trolley reaches the end of its permitted travel, or when two moving cranes or trolleys come into contact. This device may be attached to the bridge, trolley or runway stop.