HOME »
Case
»
Overhead Gantry Crane
Overhead Gantry Crane
A type double girder Overhead Gantry Crane with hook cap application:
A type double girder Overhead Gantry Crane applicable for enterprises, railway station, ports, warehouses and supplier freight yard, handling and lifting between the fixed span in a variety of material.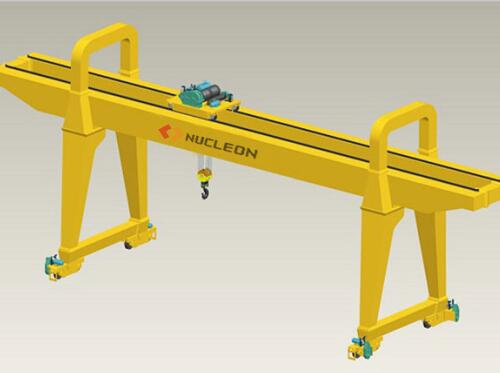 A type double girder Overhead Gantry Crane with hook cap safe device:
with overload and zero protection devices, emergency switches, travel limit switches, buffers, rail clamp and other security driver.
the use of ergonomically designed of driver's cabin allows the operator more comfortable.
Double-girder hook Overhead Gantry Crane are suitable for general loading and unloading and lifting operations along open-air warehouses or along railway lines.
2. The 30t  double girder Overhead Gantry Crane consists of bridges, carts, trolleys, and electrical equipment.
3. The bridge adopts the box-shaped welding structure, and the cart driving mechanism adopts separate driving. The three-in-one speed reducer is used for the large and small car operating mechanism, which is convenient for maintenance.
4. All kinds of safety measures such as strong wind alarm, breaking shaft, anti-rollover and so on are complete.
5, all institutions are maneuvering in the control room. Crane conductive form is divided into two kinds of cables and trolley wire, one of the ordering.
6. The order specification form must be filled out when selecting this crane. The minimum temperature and maximum temperature of the working environment and the power supply must be indicated when using the crane.