HOME »
Case
»
Overhead Crane Bridge
Overhead Crane Bridge
QD electric double-girder Overhead Crane Bridge with hook is the widely used hoisting machinery. It is mainly comprised of box-shape bridge, crane crab, trolley traveling mechanism and electric control system. The load handling device is the hook.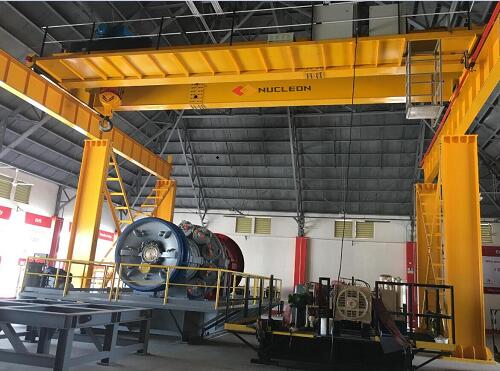 Overhead Crane Bridge has three operation modes: ground handle, wireless remote control and cab. There are two kinds of two cab: open cab and closed cab, where there are adjustable seat, insulating mat on the floor, toughened glass for the window, fire extinguisher, electric fan and auxiliary equipment such as air conditioner, acoustic alarm and interphone which can be furnished as required by users.
2.The Overhead Crane Bridge can be furnished with load handling devices such as motor grab, electromagnetic chuck to meet the requirement types of materials.
3.The Overhead Crane Bridge, of a classification group of A3-A7, has a commonly used lifting load 3-250t, so that it is suitable to work in factories, warehouses and freight yards where the ambient temperature is -10-40 degrees centigrade and the relative humidity is not more than 85%. It is prohibited to work in the environment with inflammable, explosive and corrosive gas.