HOME »
Case
»
Overhead And Gantry Cranes
Overhead And Gantry Cranes
The Manual of single girder Overhead And Gantry Cranes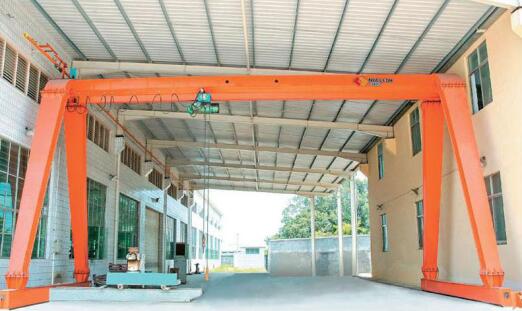 The brief introduction: Electric single girder Overhead And Gantry Cranes (hereinafter referred to as crane) is used in combination with CD1 MD1 and other forms of electric hoist. It is a kind of light crane with rail running. Its suitable lifting weight is 1-16 tons, the applicable span is 7.5-25.5 meters, and the working environment temperature is in the range of -30 ~ 40 ℃.
For the convenience of users, there are two kinds of manipulations: ground manipulation and cab manipulation, and cab manipulation is divided into two forms:  to open the door and side door two forms, so that users can choose to use them..
This product is a general purpose crane, mostly used in machinery manufacturing, assembly, warehouse and other places:
Metal structure part
The main girder adopts box girder structure. For convenient storage and transportation, the main beams are connected with M20 bolts (45 steel)
Electric hoist
The electric hoist can lift the weight and move along the main beam longitudinally. The structural features of the electric hoist are detailed in the instructions on the electric hoist.
Run institutions

This product is driven by respectively form, the drive and brake by cone brake motor to complete. The transmission is a "one open and one closed" gear drive, and its closed gear part is the reducer that uses 5 tons of conical gourd to run the small trolley..

Electrical equipment
The running motor used in this product has two forms: single speed conical cage motor (used for running speed of 30 m / min and 45 m / min) and conical winding motor (used for running speed of 75 m / min). There are two types of electrical control depending on the type of control. Electric hoist and the whole crane are equipped with safety devices, such as lifting limit switch, terminal limit switch and so on.