HOME »
Case
»
Mobile Gantry Crane For Sale
Mobile Gantry Crane For Sale
Mobile Gantry Crane For Sale
BMH Mobile Gantry Crane For Sale is consisted with gantry frame, main girder, legs (two sets), slide sill, lifting mechanism, travelling mechanism, and electric box. Widely used in workshop, storage, port and hydroelectric power station and some other outdoor place. This type of crane is equipped with has CD1, type and MD1 type hoist and is in medium and light duty. Lift capacity is from 2 ton to 30 ton and span is from 3 m to 35 m, or on request, the work temperature is within -20°C and +40°C, and has ground control type and operator cabin type.
Single Girder Mobile Gantry Crane For Sale 3 ~ 32Ton is used together with CD, MD type electric hoists. It is a track travelling small and medium sized crane. Normally, single girder gantry crane lifting capacity:0.5ton~32ton,lifting height:3m~30m,span: 3m~35m,working temperature is -20-40 ℃.Single girder gantry crane widely used in open ground, warehouse ,workshop to load and unload or grab materials. Its operation control model: Ground cable handle, Group wireless remote control, Cabin operation or among the two control model together with use. Single girder gantry crane has below model: MH Model truss type gantry crane, MH Model box type gantry crane, MHL Model electric hoist hanging type gantry crane, MDG Model single girder gantry crane with hook (L type single girder gantry crane).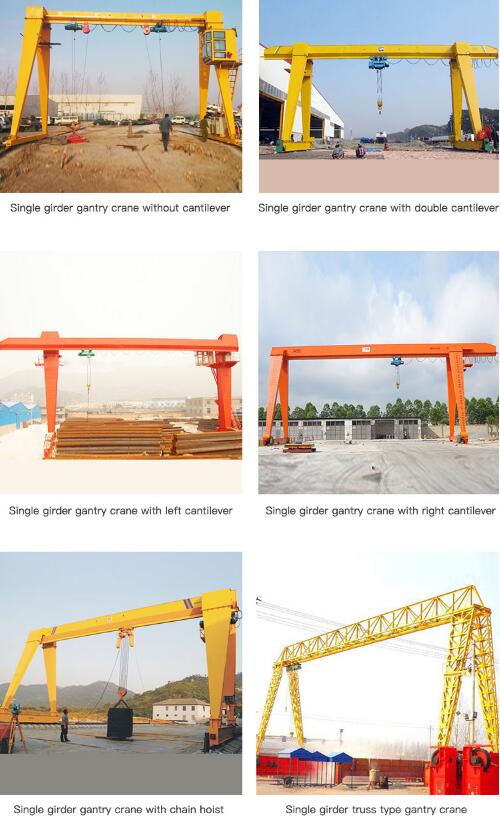 Double Beam Mobile Gantry Crane For Sale are made up of bridge, trolley, crane traveling mechanism and electric system. All the procedures are finished in the operating room. Applies to the open warehouse or rail along for general handling and lifting work. Also can equipped with many lifting device for special work. Prohibited for lifting high temperature solution, flammable, explosive, corrosion, overloading, dust and other dangerous operations.