HOME »
Case
»
LH Model Double Girder Overhead Crane
LH Model Double Girder Overhead Crane
LH Model Double Girder Overhead Crane , also known as double girder bridge crane or double girder crane, is the kind of overhead crane specially engineered with stronger double girder to lift and transport heavy loads up to 63 tons across large areas.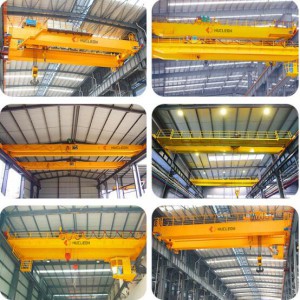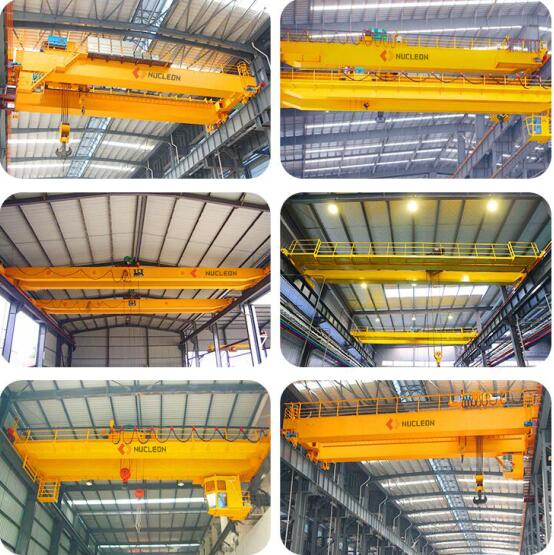 Design Code:
 LH Model Double Girder Overhead Crane follows the design code of FEM, CMAA, ISO EN, BS, GB standard.
Double Girder Hoist:
Low head room design, compact structure, smooth operation, accurate positioning, high Safety reliability, and Maintenance-friendly.
Girder:
Compact Design and low weight, use Q355B steel material(ISO EN S355, DIN ST52, ASTM A 572 Grade 50), welding specification follows ISO 15614, AWS D14.1, deflection can from 1/700 ~ 1/1000, MT or PT is requested for Fillet welding and UT is requested for joint welding.
End Carriage:
Direct Driving design with high transmission efficiency. Using hollow tube for the steel housing. Wheel material is alloy steel with proper heat treatment which is more stable and durable.
Gear Motor:
Worldwide top brand gear motor to make sure the quality, IP55, F insulation class, overheat protection, manual release bar, and equipped with electro-magnetic brake.
Control Panel:
Follow IEC standard, IP55 powder coating high quality enclosure, socket plug-in for easy connection, DIN standard terminal, international brand for the inverter, MCB, Contact and electrical devices on the panel
Festoon System:
Double line Galvanized C track system or I beam with flexible flat cable, one line for hoist power and signal transmission, one line for the pendent control trolley movement. No-welding claw is design for the brackets of the festoon system fixing.
Safety Protection Functions:
LH Model Double Girder Overhead Crane  include a lot of protection functions, like Overheat protection for the lifting, load cell type overload limit switch, up&down position limit switch, cross limit switch for the cross travel and long travel. Phase sequence relay, and other optional functions, like crane monitoring system, LED load displayer.
Controls:
LH Model Double Girder Overhead Crane can offer remote control, pendent control and crane cabin control.
Anti-corrosive Treatment:
Shoot Blasting follow ISO8501-1 SA2.5 class, roughness follow ISO 8503 G class, clearness follow 8502-3 Level II. Use top brand's Rich zinc epoxy painting for the prime, middle layer coating. Use polyurethane topcoat for the finished layer coating. All NANTE painters are trained or inspected by NACE or FROSIO level II Inspector
Applications:
LH Model Double Girder Overhead Crane is the ideal material handling equipment for wide span medium, heavier-duty applications such as mechanic processing workshop, subsidiary workshop of metallurgical mills, warehouse, goods yard and power station, etc. It is widely used in such fields as Pre Engineered Steel Building, Steel Plant, Steel Product Maker, Oil Industry, Plastic Plant, Cement Plant, Power Plant , Mine Industry, Food Industry, Chemical Industry, Cable Plant, Machine Tools, Car/Truck Industry, Transport Company, Construction Company, Electrical Company, Shipyard, Stone Yard, Installation and Maintenance, etc.
Product Parameters
Technical Data of LH Model Double Girder Overhead Crane with Hoist
Capacity
5t
10t
16t
20t
25t
32t
40t
50t
63t
Duty Group(ISO/FEM)
M5/2m
M5/2m
M5/2m
M5/2m
M5/2m
M5/2m
M5/2m
M5/2m
M4/1Am
Span
m
10~40
Height of Lifting
m
6~40
Power
220v, 240,380v,400v,415v, 440v,460v,480v,525v / 3P / 50hz, 60hz
Control Voltage
24v, 36v, 48v, 110v, 220v
Lifting Speed
m/min
5/0.8
5/0.8
4/0.6
4/0.6
2.8/0.5
3.2/0.7
2.8/0.6
0.7~3.3
0.7~3.3
Trolley Speed
5/20 (Inverter Control)
Long Travel Speed
5/20, 8/32, 10/40, 15/60, 20/80 (Inverter Control)
Lifting Motor
kW
6.1
9.5
15
15
18
9.5/1.5
22
40
40
Trolley Motor
0.37×2
0.37×2
0.95×2
0.95×2
1.1×2
1.5×2
1.5×2
2.2×2
3×2
Long Travel Motor
0.55~1.1kw × 2
0.75~2.2kw × 2
0.75~1.5kw × 4
1.5~2.2kw × 4
Model of Hoist
CD/MD Hoist
(Single Lifting Speed is defualt, Double speed is optional)
Model of End Carriage
HSE Hollow Shaft End Carriage or Bogie Design
Gear Motor Brand
Worldwide Brand & NANTE
Festoon System Type
C track/I beam with Flat cable
Long Travel Power Supply
High-Tro Reel (HTR-3, HTR-4),Enclosed Conductor Rail (HFP52, HFP56),
Unipole Conductor Rail (NSP24, NSP32)
Control Model
Pendent Control, Remote Control, Crane Cabin
Recommended Crane Rail
50×30
60×40
70×40
80×40
100×40
IP/Insulation Class
IP55/F Class is default , IP65,IP66 and H class is optional
Brake Type
Electro-Magnetic Brake
Safety Protection Function
Hoisting Overheat Protection, Phase Sequence Relay, Secondary up position limit Switch,
Overload Switch, Up&Down Position Limit Switch, Cross Limit Switch
Safety Device (Opitional)
LED Load Displayer, Hoist Monitoring System, Alarm System