HOME »
Case
»
LH double girder overhead crane
LH double girder overhead crane
LH Double Girder Overhead Crane has such features as tight dimensions, low building headroom, light dead weight and light wheel load.
They are applicable to the transfer, assembly, check and repair as well as load and unload at mechanic processing workshop, subsidiary workshop of metallurgical mills, warehouse, goods yard and power station. They can also be used insted of common double girder overhead crane at production workshop in light textiles or food industry. It has two kinds of classification, that is, light and medium.
The working ambient temperature is generally-25℃to 40℃. It is forbideen to work in environment with combustible, explosive or corrosive media.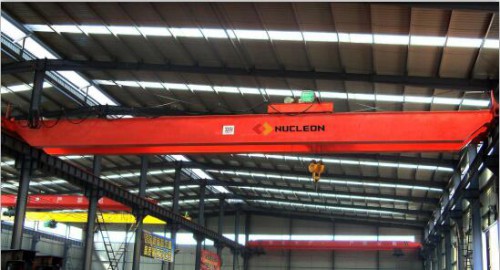 Safety feature:
Weight overload protection device,
Crane traveling limit switch,
Voltage lower protection function,
Emergency stop system,
current overload protection system,
Top quality long time bearing polyurethane materials buffer…
Products Advantage 
1.Cut Down Your Plant or Factory Building Investment.
2- Improve Your Production Efficiency, Create More Value for Your Investment.
3- Suitable different Operating Conditions, And Provide you One-Stop Solutions.
4- Compact Design, Low Headroom, Safety With High Performance.
5- Reduce Daily Maintenance, Easy Operation And Energy Saving.