HOME »
News
»
Jib Crane Suppliers
Jib Crane Suppliers
Jib crane is a type of crane where a horizontal member (jib or boom), supporting a moveable hoist, is fixed to a wall or to a floor-mounted pillar. Jib cranes are used in industrial premises and on military vehicles. The jib may swing through an arc, to give additional lateral movement, or be fixed. Similar cranes, often known simply as hoists, were fitted on the top floor of warehouse buildings to enable goods to be lifted to all floors.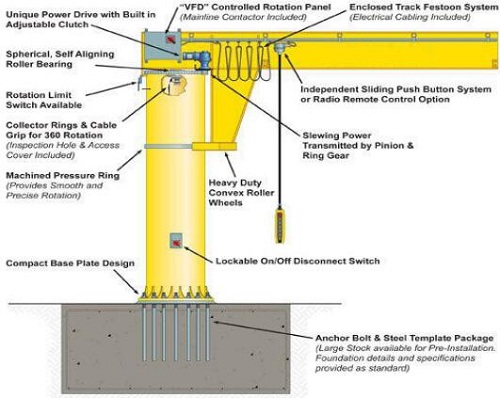 Product Details:Place of Origin: China (Mainland)Rated Lifting Moment: 0.5r/min,Rated Loading Capacity: 125kg-5t,Max. Lifting Load: 5t,Max. Lifting Height: 10m,Span: 1-10m,Application: plants ,warehouse and ect.


Nucleon located in Henan Crane Industrial Park, which has good raputition by "Town of China Crane" which is in Changyuan County ,xinxiang,China.Supply Jib crane Overhead crane, Gantry crane,electric winch, coal series hoisting equipment, small light lifting equipment and other products of research and development, manufacture, installation, sales and service as one of the Sino-foreign joint ventures.We provide high quality products and after-sales service!And already awarded ISO9001 Certificate of Quality System,ISO14001 Environmental Management SystemandOHSAS18001 Occupation Health and Safety Management System Certification.This is our company's contact information,welcome to consult.
Website:www.nucleoncranegroup.com
Email: bella@nucleoncranegroup.com