HOME »
Case
»
Jib Crane Design
Jib Crane Design
Swivel Swing Arm Hoisting Jib Crane Design
The quality swivel swing arm hoisting Jib Crane Design is a type of crane that uses a mounted arm to lift, move and lower material. The arm, mounted is either perpendicular to or an acute angle upwards from a column(pillar), may rotate along its central axis through a limited arc or a full circle. A column mounted jib crane is often used in industrial settings, like warehouses, to load and unload material.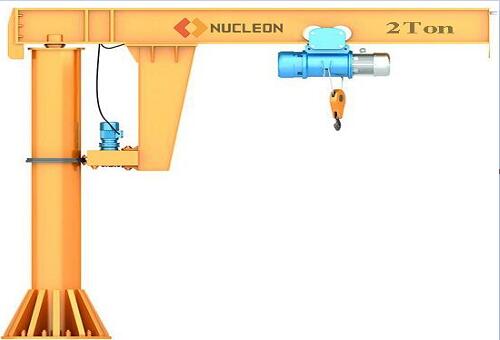 Features Jib Crane Design:
The quality swivel swing arm hoisting jib crane 5 ton is suitable to work in the dock, warehouse, workshop etc fixed working conditions, it can work within the 360 degrees to lift, move and materials handling.
This type machine is composed of the vertical shaft, revolving arm, rotating shaft, hoist etc, the bottom of the vertical shaft is fixed on the concrete base.
This type machine with advantages of the simple structure, operate convenience, turning agile, wide ranges of  working conditions.
Control Methods of Jib Crane Design: Pendent line with press button or remote control or both
Application of Jib Crane Design: It is widely used in mines, workshop, warehouse, harbours and so on.