HOME »
Case
»
Heavy Duty Gantry Crane
Heavy Duty Gantry Crane
Heavy Duty Gantry Crane With Hook
Double Girder Heavy Duty Gantry Crane with hook is widely used in plants, warehouses, material stocks to lift goods.
The capacity:5-100ton
The span : 18-35m
The working grade : A5
The working temperature:-20℃ to 40℃
Technical parameters of Heavy Duty Gantry Crane: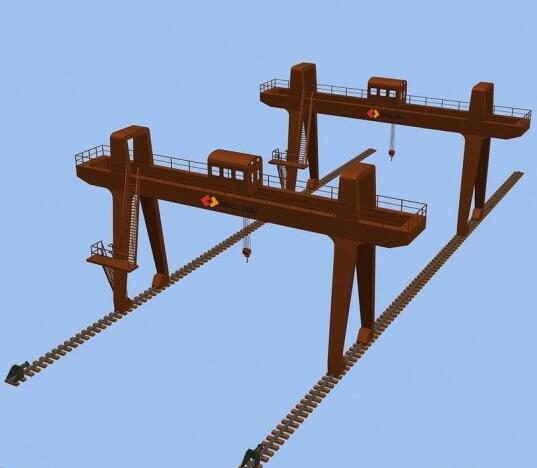 Lifting capacity
ton
5-100
Lifting height
Main
m
10-12
Auxiliary
10.72-13
Span
m
18-35
 Working environment temperture
°C
-20~40
Speed
Lifting Speed
Main
m/min
5.9-9.3
Aux.
8.5-16.7
Trolley
34-44.6
Cab
34.5-47.1
Working system
A5
Power source
three-Phase A C 50HZ 380V
Heavy Duty Gantry Crane Details
Double Girder Heavy Duty Gantry Crane with hook are made up of bridge, trolley, crane traveling mechanism and electric system. All the procedures are finished in the operating room. Applies to the open warehouse or rail along for general handling and lifting work. Also can equipped with many lifting device for special work. Prohibited for lifting high temperature solution, flammable, explosive, corrosion, overloading, dust and other dangerous operations.