HOME »
Case
»
Gantry Travelling Cranes Hook
Gantry Travelling Cranes Hook
How to disassemble the Gantry Travelling Cranes Hook when it is replaced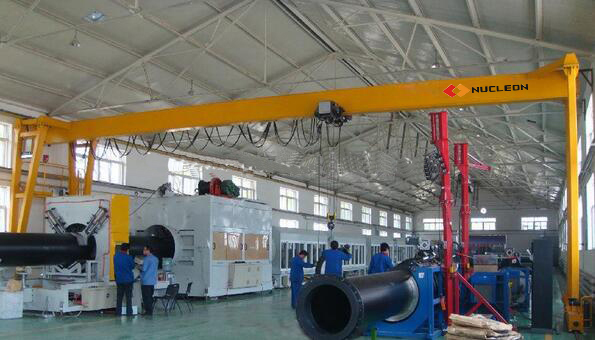 Gantry Travelling Cranes Hook is a widely used equipment for loading and supporting cranes. In hooks, a device used for reciprocating on a crane. It's also a fragile part. In the hook group, it needs to be replaced after a period of time, in the following order:
Unloaded Gantry Travelling Cranes Hook of joint bolt end coupling
Unloaded Gantry Travelling Cranes Hook Angle bearing box and the fastening bolt connection between girders.
Using crane lifting screw or jack the crane bridge jacking. The hook tread is about 10mm from the top of the track. Move the hook group and pull it out along the track surface for replacement.
Put the pre-assembled, new, active hook set with shaft-end gear coupling halves on the crane track.
Push the Gantry Travelling Cranes Hook close to the installation position, adjust the Jack to make the trolley body drop slowly, put in the fastening bolt, screw on the nut to ensure safety.
Fasten the horizontal bolt properly, and then fasten the bolt in the vertical direction accordingly. Tighten the wheel, check the wheel rotation is flexible, and check the hook horizontal and vertical deflection.
On the Gantry Travelling Cranes Hook shaft end gear coupling half body with reducer driven shaft coupling half body of the screw hole, through the connecting bolts and tighten.
After everything is normal, drop the body.
In the group of hooks, in order to ensure the normal operation of the crane, the active hooks at both ends must also be replaced at the same time. At the same time, in order to ensure the consistency of the mechanical transmission clearance between the two ends, the reducer also needs to be replaced simultaneously from the two ends of the gear coupling.