HOME »
Case
»
Gantry Overhead Crane
Gantry Overhead Crane
MG Outdoor Double Girder Gantry Overhead Crane
Nucleon Crane Group co., ltd., founded in 2005, the registered capital of 270,000,000 CNY, covers an area of 450000 square meters, staff 1700 people. Achieves ISO production system certification and European standards like DIN & FEM. Nucleon is a bridge, gantry crane, coal series hoisting equipment, small light lifting equipment and other products of research and development, manufacture, installation, sales and service as one of the Sino-foreign joint ventures. The ND, NH model wire rope electric hoist, NL type chain electric hoist, mine explosion-proof hoist, HD type electric single-girder, NLH type electric hoist overhead crane in the domestic leading level, the electric hoist production for many years ranking second in the country.
NUCLEON meets the factory, workshop, port, mining, waste disposal, goods scattered, petrochemical, aerospace, military and other industries of universal bridge crane, overhead crane, eot crane, door crane, universal gantry crane, rubber tyre and rail mounted container gantry crane four link type portal crane, quayside container crane, crane, crane hook, mining grab crane, gantry crane, ship loader, grab bucket ship unloader, stacker reclaimer, dredger, mobile platforms and other types of hydraulic crane technical requirements. Achieves great achievements especially in European Style Light Weight Cranes and KBK Flexible Beam Crane System.
NUCLEON A Series Double Beam Gantry Overhead Crane is mainly made up of bridge, trolley, crane traveling mechanism and electric system;  All the procedure are finished in the operating room.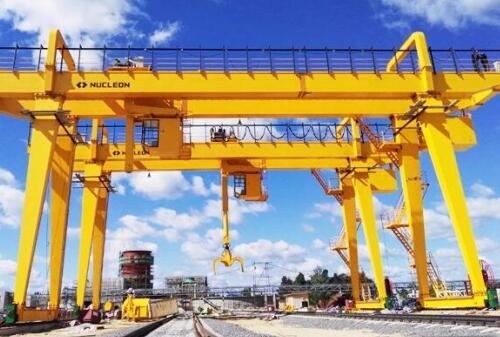 This Gantry Overhead Crane is  designed and manufactured according to GB/T 14406 "General gantry crane". Widely applies to the open warehouse or rail along for general handling and lifting work; it also can be equipped with many lifting device for special work; while prohibited for lifting high temperature solution, flammable, explosive, corrosion, overloading, dust and other dangerous operations.