HOME »
Case
»
Gantry Hoist Sale
Gantry Hoist Sale
MH type single girder Gantry Hoist Sale ,It is a rail traveling medium type crane, it uses together with MD1,CD1,HC type electric hoist. The span length range is 12-30m, the lifting capacity range is 3-32ton, working environment temperature is -20~40℃
 This crane is widely applied to do loading and unloading work in outdoor. Such as material stocks area, cement plant, granite industry, construction industry, and engineering industry and so on.
It has features of beautiful and durable appearance, perfect performance, low cost, easy maintenance, high adaptability and so on. 
It is composed of beam, support legs, crane travelling mechanism, trolley, electric equipment and so on.
It could be special design and customize by clients' requirement. 
This type of single girder gantry crane consists of 5 main parts, namely, the bridge structure, A-frame support legs, the traveling mechanism, electric hoist and the electric equipment. 
It has box type and trussed type, box type has characteristic of slim body and strong lifting capacity; trussed type has characteristic of small windward surface, small deadweight and strong lifting capacity.
Control method: Ground control, Cabin control.
The girder could also have a double girder design for heavy duty applications, where a suitable track is provided on top of the girders for travel of crab wheels.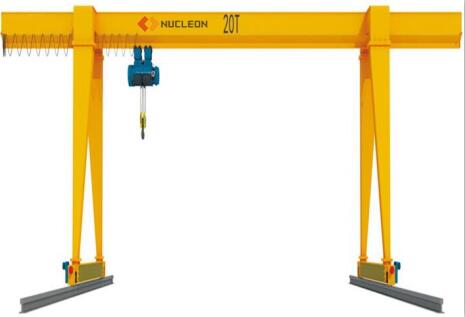 Gantry Hoist Sale FAQ
——————
Q1. Can the cranes be customized?
Yes, every customer's working condition is different, all of our products can be customized depend on customers' requirements. Please give us the information as clear as you can, so we can give our best design to suit for your demands.
Q2. How many operation methods for my selections?
We provide pendent controller with push button control type, remote control type or cabin control type.Please tell us what kind of operation way you need.
Q3. I have low headroom in my workshop, is it possible to install a crane in it?
We have special products for low headroom workshop, our engineer can give the best design according to your dimensions.
Q4. Do you supply lift tools?
Yes, we can provide any kind of lifting tools such as hook, electromagnetic, grab bucket etc…
Q5: In order to offer the most suitable design solution for you, it will be great helpful if you can offer us the following information to us:
1. Lifting capacity.
2. Span length.(rail center to rail center)
3. Lifting height.(hook center to ground)
4. Have you installed the rails? Do you need us to supply the rails? How long is it? 5. Power supply: Voltage.
6. Working condition: what kind of material to lift? temperature?
7. It would be much better if it is possible for you to offer the drawing photo of your workshop.