HOME »
Case
»
Gantry Crane Parts
Gantry Crane Parts
Selection Skills of Gantry Crane Parts Coupling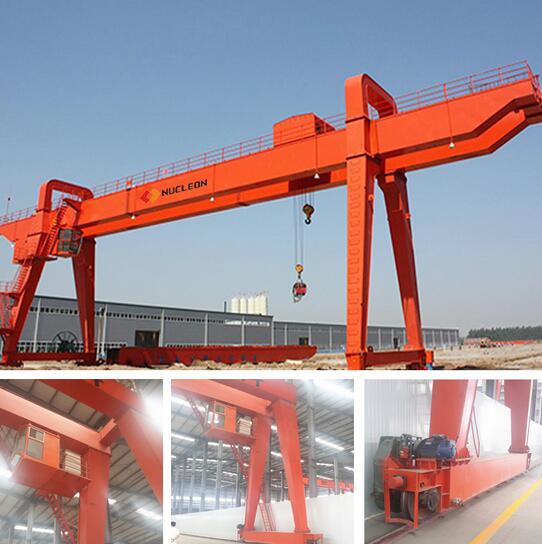 Gantry Crane Parts coupling is mainly used to make the common rotation of the two on the two different organizations shaft (master-slave shaft) to transfer torque of mechanical parts.
One. Selection of standard Gantry Crane Parts coupling. Try to choose the national standard when choosing coupling and coupling of machinery industry standard, If it does in the existing standard coupling and patent coupling can't meet the design needs to go to the coupling of a custom fit.
Two. Select the type of Gantry Crane Parts coupling . Select the type of Gantry Crane Parts coupling according to the categories of prime mover and working load class , working speed , transmission precision , two – axis offset , temperature , humidity , working environment , etc .
Three. The coupling torque calculation. The power transmission system of power should be greater than the workpiece machine power required.
Four. The primary coupling model. According to the calculated torque Tc, nominal torque from the Tn specification series optional phase approximation, the selection should meet the Tn more than Tc.
Five. According to the size of the axle diameter, the initial size of the coupling should be adjusted. That is the diameter of the shaft hole D and the length of the axle hole L. It should fit the request of the main axis and the axial diameter of the driven end, otherwise, the specifications of the coupling shall be adjusted according to the diameter of the shaft D.
Six. Choose the Gantry Crane Parts connection type. The choice of the coupling type depends on the connection type between the main and slave ends. Common used linkage for unified linkage type and code, in the GB/T3852 rules the seven key type, four kinds of keyless connection, use morer is type A key.
Seven.  Gantry Crane Parts Type , specification and specification of selected coupling. Selected coupling types according to the load category of power machine and coupling, speed, working environment and so on. Based on the coupling of the supporting elements of the selected connection type coupling; according to nominal torque, the diameter of the shaft hole and the shaft hole length selected specifications.
In order to ensure the strength of shaft and bond, the shaft and bond strength should be checked and calculated after selecting the type of Gantry Crane Parts coupling, so as to confirm the type of coupling finally.