HOME »
Case
»
Gantry Crane DWG
Gantry Crane DWG
ISO CE 10 Ton Gantry Crane DWG
Model Number: MH
Capacity: 3~20 ton
Span: 12~30m
Electric Hoist: CD, MD
Working System: A4
MH Model Electric Hoist gantry crane is used together with CD MD model electric hoist.
It's a track travelling small and medium-sized crane. Its proper lifting weight is 3~20t,
proper span is 12-30m,It's proper working temperature is -20°C-+40°C.
This product is a regular crane widely used at open ground and warehouse to load,
unload or grab materials. It has 2 controlling methods, namely grounding controlling and room controlling.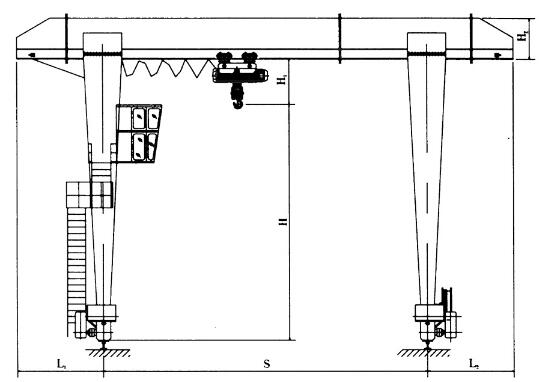 Nucleon mobile gantry crane are a type of crane built atop a gantry, which is a structure used to straddle an object or workspace. Nucleon gantry crane with electric hoist can be operated from the ground via cable-connected control pendant, radio remote control or from an operator's cabin.
In addition, Nucleon gantry crane multiple controls are possible by switching control from one mode to another. The system allows operation of the crane in a manual, semi-automated or fully automated mode. Further confusing the issue is that gantry cranes may also incorporate a movable beam-mounted hoist in addition to the entire structure being wheeled, and some overhead cranes are suspended from a freestanding gantry.