HOME »
Case
»
Factory Warehouse Hanger Overhead Crane
Factory Warehouse Hanger Overhead Crane
Factory Warehouse Hanger Overhead Crane
Single Beam Factory Warehouse Hanger Overhead Crane is characterized by more reasonable structure and higher strength steel as a whole.
* Used together with CD1 model MD1 model electric hoist as a complete set, it is a light duty crane with a capacity 1 ton ~ 32 tons. The span is 7.5m~ 31.5m. Working grade is A3~A4.
* This Factory Warehouse Hanger Overhead Crane is widely used in plants, warehouse, material stocks to lift goods. It is prohibited to use the equipment in the combustible, explosive or corrosive environment.
* This Factory Warehouse Hanger Overhead Crane has two operational methods, ground or operational room which has open model closed model and can be installed on the left or right side according to the practical situation.
* And the direction of entering the gate has two forms, side way and ends in order to satisfy the users, choice under different conditions.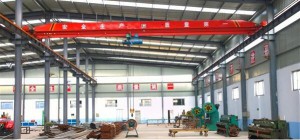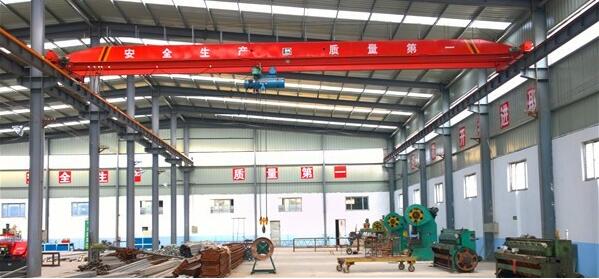 Capacity(t)
1t,2t,3t,5t
10t
16t
Span(m)
6.5m—28.5m
Lifting height(m)
3m—30m
Control mode
Pendant control, wireless remote control, cabin control
Lifting speed(m/min)
2.8 ,8 , 8/0.8
2.3 , 7, 7/0.7
4, 4/0.4
Travelling speed(m/min)
20,30,45 (Inverter)
Service class(work grade)
a)A2,A3: used in places of mild service, such as workshop and warehouse.
b) A4: used in places of Medium service such as assembly and depot.
Supply power(three phase power)
380V 50HZ 3Phase (according to user require)
Hoist type
Wire rope or chain hoist ,single or double speed
Working ambient temperature
-20 °C~+45°C.
Note
It's not suitable for lifting blazing & melting metal or toxicant as well as explosion-proof or insulating working conditions.