HOME »
Case
»
Products application of single beam EOT crane parts
Products application of single beam EOT crane parts
Products application of single beam EOT crane parts
LDA Single Girder Overhead Crane is very popular for material transfer in every type industries. For example, the manufacturing workshop, mold inject workshop, machining workshop and so on. But the LDA single girder overhead crane is forbidden to work in the Inflammable, explosive and corrosion environment.
Production features of single beam EOT crane parts
1)Consisted with crane frame, lifting hoist, travelling mechanism, and electrical control.
2)EOT crane parts frame includes main girder, electric box, end beams
3)Matching with CD1 or MD1 or electric hoist, is a light small crane with rail travelling.
4)Span:3-30 m, and we could design it according to your requirements.
5)Working class: A3, A4, A5
6)Widely used in workshop, storage, port and hydroelectric power station and some other outdoor place
7)They are also suited to indoor applications
8)Can be constructed with a cantilever to allow handling outside the rail centers.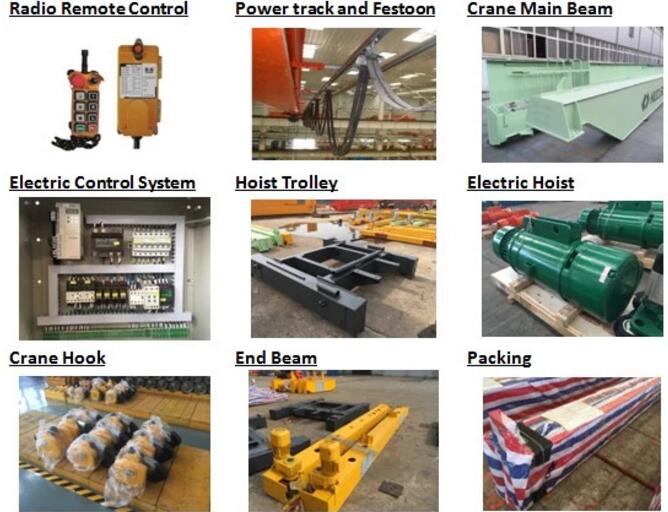 Nucleon Overhead Crane is whole-owned subsidiary of Nucleon Crane Group, which is China Overhead Crane Factory, main product: Overhead Crane, Gantry Crane, Electric Hoist and Winch. founded in 2005, the registered capital of 270 million Yuan, covers an area of 450000 square meters, There are 1700 staff in our company and 400 people of them are sebior and medium technicians. We are specialized in manufacturing Gantry Crane, Overhead Crane, Jib Crane, Electric Hoist, Electric Winch, and we are located in Henan Crane Industrial Park, which has good reputation by "Town of China Crane"
Nucleon Crane Group is china famous Single girder Overhead Crane Manufacturer and double girder Overhead Crane Manufacturer.
See more:http://www.nucleoncranegroup.com
http://www.nucleonoverheadcrane.com
Email:info@nucleoncranegroup.com
If you have any questions, Please don't hesitate to contact me.