HOME »
Case
»
Electrical hoist Gantry crane
Electrical hoist Gantry crane
BMH Model Electrical hoist Gantry crane is used together with CD MD Model electrical hoists .It is a track travelling small and medium-sized crane .Its proper lifting weight is 2 to 16 tons .proper span is 5 to 20 meters its proper working temperature is -20 ℃ to 40℃.
Electrical hoist Gantry crane is a regular crane widely used at open ground and warehouses to load .unload or grab materials .
Its has two controlling methods. namely ground controlling and room controlling.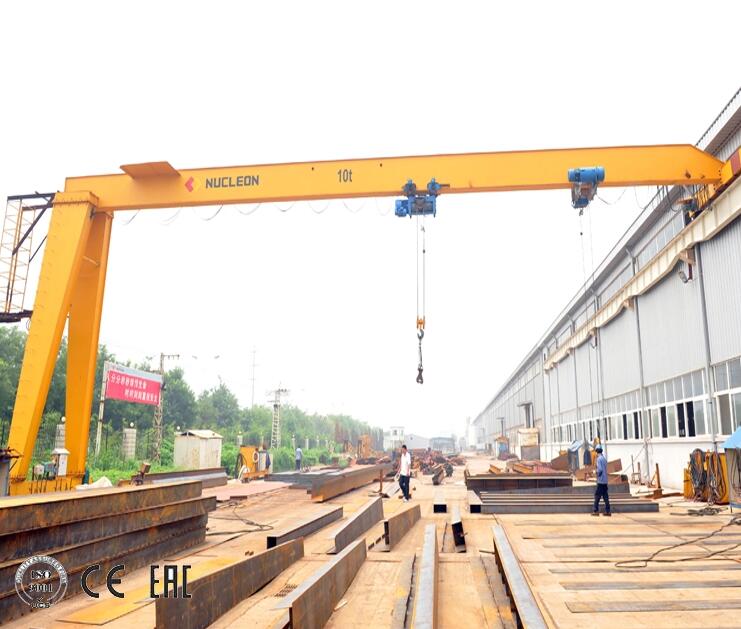 Single beam Electrical hoist Gantry crane is a kind of light type crane, commonly used in modern production. In workshops where part utilization of shop bay is required (as in a tool room attached to a press shop), a Semi-Goliath/Gantry Crane is used. In such a configuration, one end-carriage of the crane will travel on the regular gantry rail while the opposite end-carriage will travel on a rail mounted typically on the ground or at a lower elevation. Compared with the electric single-girder gantry crane, it is saving the investment and space.
Application: This Electrical hoist Gantry crane is mainly used in steel stock yard, mine, the concrete industry, warehouse, factory, harbor and ship building, etc.
Features: Compact dimensions, low weight, easy to operate and easy to maintain, steady performance, safety, less wastage, low cost and so on.
Optional features:
1. Variable speed through VVF Drive
2. Soft starter
3. Wireless Radio Remote control
4. Waterproof.
5. Remote control