HOME »
Case
»
Electrical Hoist For Malaysia Coal Factory
Electrical Hoist For Malaysia Coal Factory
8 Sets Electrical Hoist For Malaysia Coal Factory
On September 12, Malaysia Coal Factory ordered 8 Sets Electrical Hoist from China Nucleon Crane delivered to Malaysia Kelang Port.
6 sets CD 5 Ton Electrical Hoist lifting height from 5m to 20m, CD industrial electric hoist has only one normal speed, which can satisfy normal application. And 2 sets MD 10 Ton Electrical Hoist lifting height from 18m to 45m, MD industrial electric hoist has two speeds: normal speed and low speed. At a low speed, it can do precise loading and unloading, mounding of sand box, maintenance of machine tools.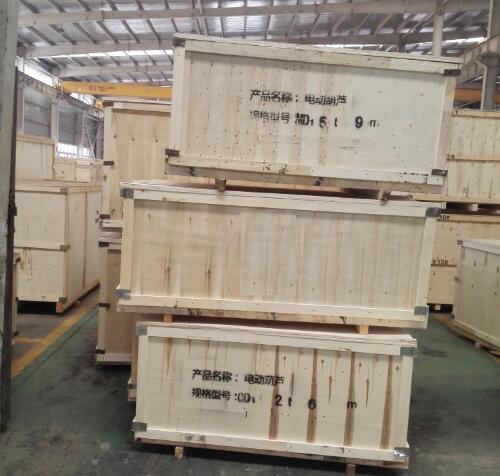 CD OR MD Electrical Hoist parameter list
Type
CD1(MD1)
Capacity (t)
0.25
0.5
1
2
3
5
10
16
Lifting Height (m)
3~9
6~12
6~30
6~30
6~30
6~30
9~30
9~30
Lifting Speed (m/min)
8(0.8/8)
7(0.7/7)
3.5(0.35/3.5)
Traveling Speed (m/min)
20
20/30
18
Rail
10-20b
16-28b
20a-32c
25a-50b
32b-50b
32b-63c
Work Duty
M4
Power
3PH AC 380V 50Hz or others
In order to save cost and time for you, we need your provide below information:
1. FOB or CIF price?(If CIF price, tell us your destination port)
2. Quantity?(set)
3. Lifting capacity?(ton)
4. Lifting height?(m)
5. Which kind of material does if lift?
6. Working voltage?(V, HZ, Phase)
7. Working environment?
See more:http://www.nucleoncranegroup.com
http://www.nucleonoverheadcrane.com
Email:info@nucleoncranegroup.com
If you have electric hoist inquiry, Please don't hesitate to contact me.