HOME »
Case
»
Electric Trolley Hoist
Electric Trolley Hoist
electric hoist with Electric Trolley Hoist
Electric Trolley Hoist is a light and small crane machinery, which can be fixed on single or double girder, Overhead Crane, gantry crane and hanger crane. It is often used in factories, mines, docks, ports, storage houses, workshops etc., which is the necessary machinery to raise labor productivity and improve working conditions.
The lifting speed of CD1 type is general speed, it can satisfy the requirement of general use; The lifting speed of MD1 type has two lifting speed- general speed and slow speed. When worked in slow speed, it can satisfy the requirement of precision loading and unloading material, therefore, the useful scope of MD1 is wider than CD1 type.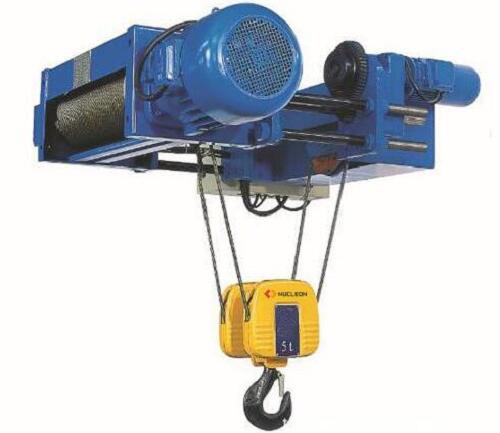 CD1 Electric Trolley Hoist has only normal speed, which can satisfy the general working requirement.
MD1 Electric Trolley Hoist has one more hoisting motor and one slow speed actuating device, which make the model have two speeds. When it works slowly, it can satisfy the precise task such as precise working of loading and unloading, sand to break-in.
It can travel rotation through the trolley hanging on the I-steel, and install on the single beam crane, gantry crane, jib crane and overhang crane to rise and fall the cargos.
So it can be used in factories, mines, wharf, warehouse, freight yards, and shops and so on which need lifting equipment for lifting heavy objects. Such as mining companies and railways, docks, warehouses. It is prohibited to manned.
Motor: Hoist Motor is an taper type rotor motor with braking, it is made by Nanjing special motor factory, it is of the best quality motors, it has bigger torque, so it can be adapted to moving frequently.
Trolley: It is assembled and has running wheels. Herein, the runner wheels are mounted on top-class sealed ball bearings.
Gear Box: Hoist Gear Box has specially treated gears for high wear resistance. Each Geared Shaft assembly is supported on ball or roller bearings , to ensure smooth, low-friction operation.
Wire Rope: Hoisting rope comply with the exporting ISO standards. The leading rope taken by the Drum, does not slip sideways when slack. The factor of safety, on the nominal breaking strength of the rope is six.
Rope Drum: Grooved Drum, seamless pipe of adequate length to be wounded in one layer and to provide proper support for the rope to minimize abrasive wear is provided. Drum Shaft resolves on Ball Bearings for ensuring smooth running.
Electric control system: Model CD1 and MD1 is composed of the contactor box, controlling switch, cut-off limiter. the working voltage of controlling switch is 380V,36V or 24V(safety voltage).
Rope Guide: Rope Guide is in two halves, ensuring easy accessibility. It encircles the Drum completely so that the rope may not uncoil even when the Hoist is in unloaded condition.
Hook: The Hook Block is tested to 150 % of full load before assembly. The rope sheaves are fully guarded with protective steel casting .
Testing: All our Hoists are tested on 125 % thus assuring safe working load and is issued with a test certificate.