HOME »
Case
»
Electric Cable Hoists
Electric Cable Hoists
Five detailed installation steps of Electric Cable Hoists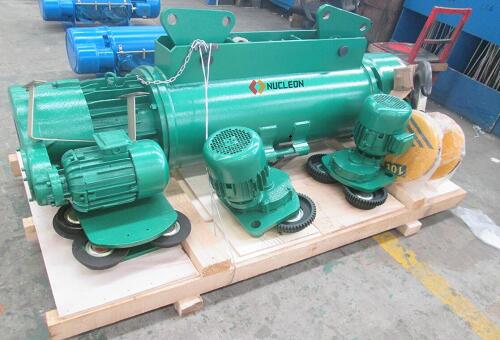 1.Before the installation of Electric Cable Hoists, should check whether damage in transit, In particular , the casing of explosion – proof type motor electric appliance shall be damaged           if there is crack , breakage and explosion – proof joint surface . can not be installed, flameproof parts should be replaced in the manufacturing plant, non flameproof parts can be replaced          by themselves or repaired after installation.
The invention relates to an I – shaped steel track or framework for the movement of Electric Cable Hoists, The standard structure or self – designed structure shall be selected by the unit of use according to the span and the starting weight , and the model scope of I – steel shall comply with the technical parameter table .
As the span of the workshop is different, the size of the I-steel is also different. Therefore, the wheel assembly should be adjusted by the number of washers in accordance with the width of the I-steel track, so as to ensure the one-side clearance C4mm between the flange of the wheel rim and the lower flange of the track. The one-side quantity of 0.5 ~ 10t Electric Cable Hoists gasket refers to Table 5 / 12 ~ (32) t electric hoist according to the guarantee clearance of C4 ~ (4mm) ~ (5 mm).
The I-steel track used in Electric Cable Hoists should be equipped with stopper and buffer at both ends to prevent the derailment of Electric Cable Hoists. The buffer head of the buffer device shall be rubber or wood , and metal material shall be prohibited.
Electrical equipment metal housing external use of external bolt on the equipment, flashlight door may not be external to the ground. The inner grounding screw of the junction box should be reliably connected with the grounding core wire introduced into the cable. When 36V control voltage is adopted, there is no internal grounding for the flashlight gate.